Stanley Fischer, a First-Rate Central Banker, Steps Down
by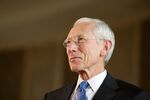 Stanley Fischer ranks high in any listing of the world's best central bankers. His decision to step down as governor of the Bank of Israel later this year in the middle of his second term is bad news for Israel's economy, not to mention the administration of Prime Minister Benjamin Netanyahu. Little wonder that bonds, stocks, and the shekel fell after the news. No reason was given for Fischer's departure.
If it weren't for his age—69—Fischer would most likely be a candidate to succeed Ben Bernanke as chairman of the Federal Reserve when Bernanke's term expires a year from now. But it's possible his age won't be an obstacle. Running a central bank is intellectually but not physically demanding. At the World Economic Forum in Davos this past week, Fischer looked his usual trim and vigorous self. Born in Northern Rhodesia (now Zambia), he retained his U.S. citizenship even while running Israel's central bank.
Fischer is not only the dean of central bankers, but a teacher of them. As a professor at the Massachusetts Institute of Technology, he advised Bernanke on his doctoral thesis. He also taught Mario Draghi, who now leads the European Central Bank.
Last year the Swiss-based Institute for Management Development ranked the Bank of Israel in the top five among central banks for its efficient functioning, the third year in a row it did so.
Fischer's greatest strength has been a mix of steadiness and adaptability. He never acted rashly. "Everyone knows with Fischer, nothing stupid was going to happen economically," MIT economist and Nobel laureate Robert Solow told Bloomberg.
But Fischer also knew when to be a hawk and when to be a dove. Taking office in 2005 during a global boom, he quickly raised the central bank's target rate to as high as 5.5 percent to keep the economy from overheating. Like other central bankers, he cut rates aggressively when the financial crisis broke out in 2008. What came next is interesting. Fischer judged the economy to be on the mend and began cranking rates back up as early as 2009, even while Bernanke continued a zero-rate policy. But when Israel's economic recovery proved weaker than he'd expected, Fischer quickly reversed course and began cutting again, bringing down the target rate from 3.25 percent in 2011 to 1.75 percent now.
Inflation trended above the Bank of Israel's target for several years. But Fischer wisely held his fire, realizing the problem was temporary. This past year inflation came to 1.6 percent, safely inside the bank's target range of 1 percent to 3 percent.
Before it's here, it's on the Bloomberg Terminal.
LEARN MORE