Microsoft's Steve Ballmer Does Not Fear Dropbox or an Office-less IPad
by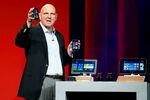 When Microsoft Chief Executive Officer Steve Ballmer does his bounding these days, it's often in front of an 82-inch interactive display mounted on the wall of his office. Ballmer gets to poke at the screen—a Perceptive Pixel LCD—like a more energetic version of Wolf Blitzer. The display points to Microsoft's vision for an interactive future in which documents, spreadsheets, and presentations get animated and people work on projects with more gesticular gusto. (This is a future that plays to Ballmer's strengths.)
Microsoft took a decently big step toward this future today with the release of Office 2013. As Dina Bass and I pointed out, this is Office for the Cloud, in that you can now save files straight to SkyDrive, Microsoft's online storage system. Users can also pay for the software on an annual subscription basis and receive updates every three months instead of every three years. In an interview on Jan. 29, Ballmer talked about the release of Office 2013 and where Microsoft is heading when it comes to making people more productive.
What's the big pitch here?
No. 1, this new Office is really consistent with what I would call a whole new generation of hardware and software. It has a fast, fluid user interface. It works well with touch and supports modern UIs and modern hardware. It is the first version built from the get-go to think about the cloud as its delivery point. It supports multiple devices, and it embraces the notion of social, so you can stay connected and share information with the people you care about. It will be extremely valuable to anybody who cares at all about being productive.
You guys face the huge challenge of trying to advance a product on which about 1 billion people rely. You want to modernize it, but you don't want to break anything that people need. Partly as a result of this, Microsoft is coming to the cloud late and now going up against a company like Dropbox that already has 100 million users.
Well, you've got to remember, 100 million sounds like a pretty small number to me, actually. We've got a lot more Office users. And actually if you even want to go to the cloud, we have a lot of Hotmail and SkyDrive users. I'm not beating on Dropbox. They're a fine little startup and that's great.
We first did our HTML versions of Office, the so-called Web Apps, two releases ago. I think probably six years. We enhanced them three years ago. And this is just another logical step down the path that we had embraced.
You have 1 billion Office users today. It seems like that number can't get that much bigger.
That number is going to grow. That's sort of the miracle of economic development, isn't it? More and more people enter the class of information workers and knowledge workers. More and more students getting more and more education, taking on more and more jobs where they work with information every day.
You knocked Dropbox as a small startup, but you guys paid $1.2 billion last year for Yammer, and it has just 6 million-plus users to Dropbox's 100 million.
Well, remember, there are two different things here. Yammer is about sort of mid-size companies and above. And what we're trying to do with [Microsoft's cloud-based service] Office 365, it has an enterprise side and a consumer side. If you want to get numbers like 100 million, it helps to start with consumers as opposed to businesses so you're doing an apples-to-apples comparison.
In general, I would say a much higher percentage of our unit engagement with our customers comes from the consumer. And a much higher percentage of our revenue participation comes from our business customers. And the Yammer model is really about how do you let people who work in businesses get excited, and then if they do and their businesses think it's important and valuable, how do they pay for that?
But, on the whole, you're still satisfied with this deal? Only 20 percent of Yammer's customers actually pay for the service.
I'm delighted. We have a lot of work to do. When we bought it, we knew we had a lot of work to do. It's a great team of people, but really getting it bootstrapped, it's a product that it's easy to build a natural and viral following, which is fantastic. We're kind of on track, but on track on what I would call a big, bold voyage.
What do you think about this concept of every document having its own URL? We're obviously heading in that direction, so give me your vision of the next couple of years and what documents look like.
Yes, I think a lot about—you could say a lot of what's happened heretofore gets a chance to get remade. When we first built Word, Word was primarily about authoring documents that were going to get printed. Yet the number of documents that get printed as a percentage is much lower than it used to be. And most presentations were essentially about things that you were going to do face to face, and yet many more presentations get done digitally, and get done virtually than ever got done before.
And we've done a lot of innovation in core Office that sort of speaks to that trend, and yet I think there's a lot more coming as you think about, kind of, is every website an Office document? It's possible. Is every Office document a website? It's possible. It's a way to think about it.
How's that Office for the iPad coming along?
I have nothing to say on that topic. We're very glad with the product, very happy with the product that we're putting in market. It makes sense on the devices like the Mac and the PC. We have a product that we think makes a lot of sense. We do have a way for people always to get to Office through the browser, which is very important. And we'll see what we see in the future.
(This interview was edited for content and clarity.)
Before it's here, it's on the Bloomberg Terminal.
LEARN MORE