How Safe Is the Suez Canal?
Sarah A. Topol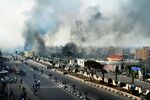 As darkness fell upon Egypt on Tuesday, protesters in Port Said prepared for their second night of defying the curfew that President Mohammed Morsi imposed on Port Said, Ismailia, and Suez, the three major cities along the Suez Canal that seem to have fallen out of government control.
On Tuesday, the head of the country's army warned of a "collapse of the state" if a political solution to clashes that have engulfed the nation since the second anniversary of the Jan. 25 uprising is not soon achieved.
"The continuation of the conflict between different political forces and their disagreement on management of the affairs of the country may lead to the collapse of the state," said Gen. Abdul-Fattah al-Sisi, quoted on an official army Facebook page.
More than 40 people have been killed in clashes in Port Said, a city at the northern tip of the canal, since residents took to the streets on Saturday to protest a verdict sentencing 21 fans to death over deadly soccer clashes almost a year ago. The army, which had been deployed to sites along the Suez Canal to ensure security, imposed martial law allowing soldiers to arrest citizens for 30 days.
On Tuesday, the government issued a statement denying that the current unrest had affected one of the country's major earners of foreign currency, the Suez Canal and connected ports. "The circulation rate [at the ports along the canal] are equivalent to the same period at the month of December 2012, or the same period during the last year. This proves that the performance rates in the port Authority were not affected so much under the current situation," read an English-language statement from the Egyptian Ministry of Transportation.
Suez Canal revenue has been one of Egypt's only stable sources of foreign currency, rising 4 percent to $424.6 million in December 2012, compared to the previous month. Tourism and oil-and-gas exports, additional major sources of foreign currency, have fallen since the uprising that deposed Hosni Mubarak in 2011, while the canal consistently rakes in roughly $5 billion in annual revenue, according to analysts.
Before it's here, it's on the Bloomberg Terminal.
LEARN MORE