BlackBerry 10 Is RIM's Last, Best Comeback Attempt
Kevin Tofel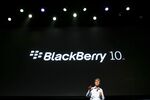 In 1999, Research In Motion unveiled its initial BlackBerry e-mail pager, the beginning of a strong product brand that has lasted. The ubiquitous BlackBerry grew from a simple e-mail machine to a capable smartphone in 2003, gathering a cult-like following of "crackberry" users.
Given that success, it seemed unfathomable that RIM might not remain as one of the world's top 5 smartphone makers. Yet in 2012 the company barely held on to the fifth spot as Samsung, Apple, Nokia, and HTC outsold RIM in smartphones. To put this in perspective: the 32.5 million smartphones the company sold all year were swamped by the 47.8 million handsets that Apple sold in the final quarter of 2012.
As quickly as RIM's BlackBerry rose to the top in the first half of the last decade, it just as quickly fell behind in the touchscreen smartphone revolution started by Apple in 2007. Now, after several years of declining market share and stalled growth for its BlackBerry subscriber base, RIM is rebooting the product line with this week's debut of BlackBerry 10.
This isn't RIM's first attempt to compete with the current crop of smartphones. In 2008, RIM launched the BlackBerry Storm, an all-touch device that created little more than a drizzle in the market. In 2010, the company launched the BlackBerry Torch 9800, along with the BlackBerry 6 operating system and a WebKit browser. After using an evaluation device, I felt—as did others, to judge from its meager sales—that the Torch was an evolution of the same old BlackBerry experience, not the revolution RIM needed at the time.
Aware that it required something new for the future, RIM purchased QNX Software Solutions the same year from Harman International. At the time, QNX was used for many in-car information and entertainment systems. RIM's BlackBerry PlayBook tablet was the first RIM product to use a QNX-based platform and while it was good at what it did, the slate was missing key features: a native e-mail client, for one, and direct access to RIM's popular BBM messaging service.
Amid feature misses and lackluster sales, I suggested that RIM had made a mistake by putting QNX on a tablet before using it to power BlackBerry smartphones. In hindsight, however, it appears that RIM had little choice: It reportedly had problems getting the BBM service on PlayBooks because the service is limited to a single device per user. And it took nearly a year to put a native e-mail app on the tablet. It appears to me now, as it did then, that RIM was simply trying to beat others into the nascent, fast-growing tablet market, whose growth began in earnest with the iPad in 2010. As a result, RIM launched a product well before perfecting the experience.
We'll know more after Wednesday's BB 10 launch in New York, but hints of potential success for RIM are popping up all over the Web. First up is the hardware, expected to comprise two initial handsets; one with a physical keyboard and one, dubbed the Z10, without one. From the various leaked images and video of what is probably a developer phone model in use, each appears perfectly capable and comparable in performance to other high-end smartphones available today.
What about the operating system? Considering that RIM originally planned to have a new platform on phones by early 2012, it has had an extra year to work on BB 10. That year proved tumultuous with the company's co-CEOs stepping down, market share dropping, pleas to developers to stay the course, and barely any growth in BlackBerry subscribers. From the little bit of BB 10 I've seen so far, however, the wait may prove to have been worth it.
Expect to hear much about BlackBerry Flow at the launch event. This is RIM's tightly integrated method of quickly navigating through the operating system in a consistent manner. BlackBerry Hub is the centralized communications center, while the BlackBerry software keyboard should provide for fast, accurate entry.
There's more to smartphone success than hardware and the OS, however. It seems that RIM has also learned the lesson that mobile apps and content deals are also important. On the app side, the company has put enormous effort into courting developers, even poking fun at itself in a music video. (Hear what RIM's vice president of developer relations, Alec Saunders, has to say about that in our podcast interview.)
As a result, tens of thousands of apps are likely to become available once the new devices launch. On Tuesday, RIM shared details of its unified content store, listing all the media partners, along with news of next-day television content availability. Add in support from carriers—all four major operators in the U.S. plan to sell the new BlackBerry devices—and the puzzle pieces of potential are all there.
What are the odds that Research In Motion has a hit with the new BlackBerry 10 devices? I'll have a better idea when I attend the launch event—from which I'll be live-blogging—but based on the limited information I have so far, RIM should at least be staying in the smartphone game.
As I've said to many over the past few months, the new devices should appeal to current BlackBerry owners. Can they sway people away from iOS and Android phones? Until we know more, I think it's a safe bet that RIM will keep its current user-base happy and possibly steal some market share from peers.
Either way, if RIM delivers what I expect in BB 10, it stays relevant in a market in which nearly 6 billion people still lack smartphones. Much growth remains, even if BB 10 doesn't unseat the current smartphone incumbents.
Still, there are no guarantees for RIM. Challenges loom, and maintaining a sliver of market share may not be enough for RIM's long road ahead.
Also from GigaOM:
CES 2013 Flash Analysis: Disruptions and Disappointments from Consumer Tech's Biggest Show (subscription required)
Startup Gridco Wants to Build a Next-Gen Power Grid that Looks Like the Internet
In the Platform Wars, Open Is Ultimately More Valuable than Closed, Says Betaworks
Vine Is the Best We've Seen in Social Video, But Is It Good Enough?
Same Old Yahoo!: Why Better Earnings Don't Equal a Turnaround
Before it's here, it's on the Bloomberg Terminal.
LEARN MORE