Astia Angel, a New Funding Source for Women Entrepreneurs
by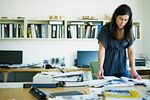 Nonprofit Astia has for 14 years been trying to increase the number of women who lead fast-growing companies. Helping women-led startups raise capital by connecting companies with investors has always been part of the deal. Last week, the group started its own network of angel investors, called Astia Angel, to invest directly in companies that feature women in top jobs.
The idea is to tap Astia's network of 4,000 advisers, investors, and entrepreneurs to find opportunities overlooked by other investors, says Sharon Vosmek, Astia's chief executive officer. "We're often seeing deals who should be venture-backed, but for lack of access to that network that tells you how to do it," Vosmek says. Taking advantage of the group's connections, "means we have fewer blind spots," she says.
Less than 7 percent of executives at venture-backed companies are women, even though successful startups tend to contain more women in senior positions, according to research published last year by Dow Jones VentureSource. (That 7 percent is less than half the share of top jobs and board seats held by women in Fortune 500 companies.) Like other groups dedicated to funding women entrepreneurs, such as Golden Seeds, Astia Angel aims to narrow that gap.
At Astia Angel's first meeting, held on Jan. 24 in Palo Alto, Calif., four entrepreneurs pitched the eight founding investors—all of whom have already invested in Astia companies—and dozens of other angel investors who were there looking for deals. The group of women and men includes experienced "super angels" prepared to invest half a million dollars, along with new investors who might join in a deal with as little as $10,000, says Amy Gips, founding managing partner of Astia Angel.
Astia Angel will meet every other month. Gips says the group hopes to be announcing its first investment by members soon and is already talking about possibly expanding the network to include investors in Britain and South America. She sees room to grow as more women start high-growth businesses: "The capital that's provided to these women entrepreneurs is just not keeping pace."
Before it's here, it's on the Bloomberg Terminal.
LEARN MORE