A B-School Dedication Fit for a Prince
Louis Lavelle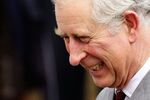 When Saïd Business School at the University of Oxford opens a new wing on Feb. 4, there will be someone on hand for the dedication who might turn a few heads: Prince Charles.
Charles, or His Royal Highness The Prince of Wales, as he was identified in a statement from the school, will be on campus to visit St. Stephen's House, one of six religious "permanent private halls" on the Oxford campus, to meet men and women studying to be ordained as priests. No word on whether Camilla Parker Bowles or any other members of the royal entourage will be joining him.
Charles is the president of a group of nonprofit organizations called the Prince's Charities, which raises more than £100 million ($158 million) a year for a wide range of causes, including environmental sustainability, according to his official biography.
Which explains the visit to Saïd, where he will be officially opening the school's new "green" building. Completed this past summer, it includes three oak-paneled lecture theaters, classrooms, and 18 boardroom-style meeting spaces. The building is heated and cooled with geothermal energy, uses rainwater for toilets, and employs solar energy to heat water.
Join the discussion on the Bloomberg Businessweek Business School Forum, visit us on Facebook, and follow @BWbschools on Twitter.
Before it's here, it's on the Bloomberg Terminal.
LEARN MORE