Yahoo!'s Marissa Mayer Finds Some Bright Light
by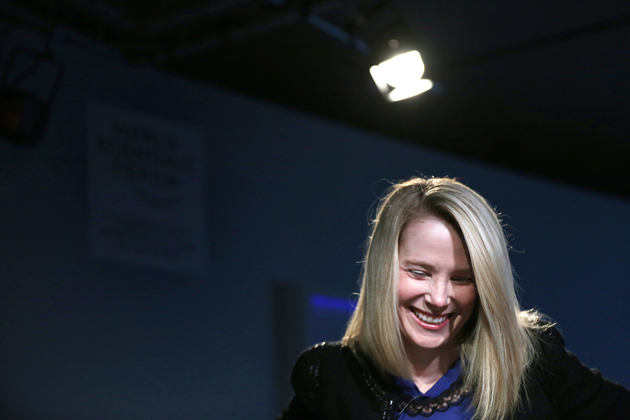 Yahoo!, Silicon Valley's favorite wounded duck, reported quarterly earnings on Monday, and once again a formerly dull financial ritual became a widely watched business event. The show belonged to Marissa Mayer, the former Google executive whose geeky charisma and credibility is the best thing to happen to the beleaguered Web pioneer since the late 1990s—or, in Yahoo time, seven chief executive officers ago.
Yahoo modestly pleased Wall Street, posting $1.22 billion in fourth-quarter revenue, a 4 percent increase over a year ago that was powered in large part by growth in its search business. Earnings were 32¢ a share, slightly topping analyst expectations of 28¢. Yahoo stock is up more than 4 percent in after-hours trading. On a conference call with analysts, Mayer stressed that the quarter was only her first full one at the company and that Yahoo had exhibited positive revenue growth for the first time in four years.
Mayer still has a lot of work to do. One unresolved task is to articulate a detailed strategy for turning around the company amid some very unfavorable tides. Yahoo's core business continues to erode at an alarming pace. Page views and search queries on the site are declining, and its share of digital advertising revenues in the United States has dropped, from 15.5 percent in 2009 to 9.6 percent in 2011 and 8.4 percent last year, according to EMarketer. Yahoo's display business, the largest slice of its revenue pie, is growing at a 2 percent clip amid 20 percent growth for the entire display ad category. That means Yahoo is rapidly bleeding market share to the likes of Google and Facebook, and there's little else in its portfolio—search revenue is also growing at a glacial pace—to make up for that gap.
Mayer has taken bold steps that have restored at least some faith in a seemingly moribund franchise. After taking the reins last summer, she announced she would return $3 billion in cash to shareholders, mostly from the proceeds of selling half of Yahoo's stake in Alibaba Group Holdings, a Chinese e-commerce firm. She also has assembled a capable executive team that includes a new chief operating officer, Henrique de Castro, a former Google executive. Max Levchin, a well-known Silicon Valley entrepreneur, joined the Yahoo board in December. Shares are up more than 30 percent since Mayer joined the company, amid an overall rise in Web stocks. Still, that probably has a lot to do with Mayer's resume and reputation—and perhaps a need to believe in a Yahoo rebound. "Hope springs eternal," said Gene Munster, an analyst at Piper Jaffray. "The message that I've gotten from investors is that they are reassured by her."
Mayer has provided only hazy outlines of a turnaround plan and this did not change on Monday. She says Yahoo will focus more on customized content and additional mobile offerings and will recommit to technology and innovation. On the call, she trumpeted additional hiring, the streamlining of Yahoo's advertising sales technology systems, and the increased pace of innovation at the company. "There's basically been a new major initiative every other week," she said, citing a revamped Yahoo Mail and new Flickr app for the iPhone as examples.
Mayer seems particularly interested in forging a new Yahoo around the daily Internet habits of Internet users. On the call, she identified what appears to be a new company mission statement: "Yahoo is about making the world's daily habits more inspiring and entertaining," she said twice. That echoes something she said at the World Economic Forum in Davos last week in a conversation on Bloomberg TV. "I think that there's a real opportunity to help guide people's daily habits in terms of what content they read," she said. "All of these daily habits—news, sports, games, finance, search, mail, answers, groups—these are all things we have been underinvested in. A little love will go a long way."
The habits of Internet users are constantly in flux. Mayer's greatest challenge will be to forge an organization that is nimble enough, for the first time in years, to stay ahead of the curve. Mayer is urging patience. "The future of Yahoo will be about innovation, execution, and continued progress on a multi-year march toward growth," she said.
Before it's here, it's on the Bloomberg Terminal.
LEARN MORE