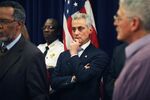 While the White House and some congressional Democrats in Washington launch their legislative campaign for stricter gun control, officials in a small but growing number of states and cities are vowing to pull investment dollars from manufacturers of guns and ammunition. History shows that the strategy could backfire.
As Bloomberg News reported on Jan. 14, Rahm Emanuel, the mayor of Chicago, has appointed himself the field general of a nascent financial war on the firearm industry. Elected officials and pension system executives in New York, California, and Massachusetts are reviewing their gun investments or actively removing firearm companies from their portfolios. "We cannot support or invest in companies that profit from the proliferation of assault weapons and the violence these guns bring to our communities," Emanuel said. On Jan. 24, Emanuel took an even more aggressive step, as reported by the New York Times:
Fresh from persuading a $5 billion pension fund in Chicago to divest from companies that make firearms, the city's mayor, Rahm Emanuel, on Thursday urged the chief executives of two major banks to stop financing companies "that profit from gun violence." Mr. Emanuel sent letters to TD Bank, which provides a $60 million credit line to Smith & Wesson, and to Bank of America, which provides a $25 million line to Sturm, Ruger & Company, asking the C.E.O.s to push the companies to "find common ground with the vast majority of Americans who support a military weapons and ammunition ban.
In a similar spirit, Bill de Blasio, New York's public advocate and a candidate to succeed Bloomberg L.P. founder Mike Bloomberg as mayor, is pressuring banks and investment funds by singling out those with large gun-related holdings as the "Dirty Dozen." The largest investor on de Blasio's list is Cerberus Capital, a New York private-equity firm, which combined a number of gun and ammo makers into a conglomerate called Freedom Group, which manufactures the Bushmaster semiautomatic rifle used in December's elementary school massacre in Newtown, Conn. Under pressure from public pension investors, Cerberus said last month it would sell Freedom Group.
One question is whether the gun divestment movement will spread from large, politically liberal cities and a handful of deep-blue states to the rest of the country, major swaths of which are deeply attached to their firearms. On the left, activists will invoke divestment initiatives related to South Africa's former apartheid regime and the tobacco industry. Gun-rights advocates will stress that, unlike government-backed racism and lung-destroying cigarettes, guns have legitimate, constitutionally protected uses. Investment professionals may question whether public pension funds ought to engage in partisan conflict and culture war. We'll have to wait a while to see how all that plays out.
A further question is whether this kind of municipal assault on the gun industry en masse will have an effect opposite from what its proponents intend. Experience from the 1990s—largely forgotten outside of the firearm industry—suggests that gun-control advocates risk unintended consequences.
Following the state litigation offensive against the tobacco industry, which in 1998 culminated in a $206 billion settlement to be paid by cigarette manufacturers over 25 years, some of the same plaintiffs' lawyers teamed up with city and county governments to bring a wave of lawsuits against the gun industry. The theory was that firearm makers should be held liable for the public medical and law enforcement costs of gun violence.
The gun suits fizzled for two main reasons. First, a number of judges rejected the theory that the makers of legal, regulated products should be held liable for the misuse of those products by criminals, suicides, or other third parties. Regulating the gun industry was something that legislatures, not the courts, should address, these judges said as they dismissed the lawsuits.
The second reason the anti-gun suits failed was that pro-gun forces, led by the National Rifle Association and its affiliates, convinced lawmakers to pass statutes that barred liability suits against firearm companies for the third-party misuse of guns. A federal version of the liability-shield law was enacted in 2005. Traditional democracy trumped guerrilla regulation via litigation.
The relevant lesson from the 1990s' municipal gun litigation is that by attacking the firearm industry as a whole—and looking away from the criminals who pull triggers—politicians provided the NRA and the gun industry with a cause to rally their loyalists. Rather than split the industry away from the gun lobby, as they aimed to do, the proponents of the litigation bound the two closer together. Indeed, one major company that tried to settle the litigation through compromise, Smith & Wesson, was punished furiously by consumer boycotts and nearly driven out of business. S&W's troubles did nothing to reduce the prevalence of firearms in private hands. Its struggles became a boon to Smith & Wesson's main competitor, Glock, which saw its sales increase. (I discuss this episode in detail in my book, Glock: The Rise of America's Gun.)
Today, if investor activism has some marginal effect on the stock price of the two publicly traded U.S. gun manufacturers, Smith & Wesson and Sturm Ruger, that will come only as good news for Glock, Beretta, and other privately held rivals. Yes, Cerberus says it's going to back out of its Freedom Group roll up—a planned initial public offering that didn't come about for reasons having nothing to do with Newtown. But when the constituent parts of that ungainly conglomerate are sold off, it's far from obvious that the break-up will hurt sales of Bushmaster rifles. In the short run, the Bushmaster and similar weapons are selling out at retail stores across the country.
Surrounded by ideological radioactivity, the gun industry is unique in American commerce. In unpredictable ways, firearm makers and gun lobbyists profit from antagonism. One could even say they thrive on it.
Before it's here, it's on the Bloomberg Terminal.
LEARN MORE