Payoffs to Ex-Judge Are Latest Twist in Chevron Case
By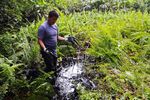 The epic $19 billion environmental lawsuit against Chevron in Ecuador has descended into a realm of magical-realist scandal that would make even Gabriel García Márquez blush.
The latest plot twist comes via a Jan. 28 federal court filing in New York by lawyers for the oil company, which almost exactly two years ago was hit by the monster verdict in connection with contamination in the Amazon jungle in eastern Ecuador. In the filing, a former Ecuadorian judge named Alberto Guerra, who for a time presided over the case in 2003, says under oath that he was paid thousands of dollars by lawyers representing jungle residents for illegally ghostwriting judicial orders favoring the plaintiffs and issued under the name of a subsequent judge in the case.
Guerra, whom Ecuadorian judicial officials forced off the bench in 2008, says he secretly drafted the rulings for Nicolas Zambrano, the judge under whose name the historic February 2011 judgment against Chevron was issued. In addition, Guerra alleges that Zambrano told him that he allowed the plaintiffs' legal team, led by New York lawyer Steven Donziger, to draft the final trial judgment in exchange for a promise of $500,000 to be paid to Zambrano out of the plaintiffs' recovery. (Zambrano has also been fired as a judge under a cloud of alleged corruption related to drug-trafficking cases.)
"I was Mr. Zambrano's 'ghostwriter,' and I wrote the great majority of the rulings issued in civil cases assigned to Mr. Zambrano, including the Chevron case," Guerra says in his sworn statement. "Mr. Donziger thanked me for my work as ghostwriter in this case and for helping steer the case in favor of the plaintiffs." Guerra provided bank records and other documentary evidence to back up his allegations.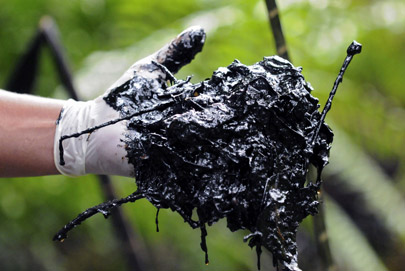 Chevron had previously accused Donziger, his Ecuadorian lawyer allies, and Ecuadorian judges and court officials of corruption. The oil company has sued Donziger and the others in federal court in New York on civil racketeering charges. "Another participant in the fraud has now come forward rather than wait to be exposed by others," Hewitt Pate, general counsel for Chevron, said in a press release. Chevron contests the human-health dangers of oil contamination in a Rhode Island-sized swath of jungle; whatever pollution that persists, the company contends, should be blamed on Petroecuador, the national oil company that took over the Ecuadorian industry after Texaco was kicked out in 1992.
Karen Hinton, a spokeswoman for Donziger and the plaintiffs, countered that Chevron had bought false testimony from Guerra. She called it "tantamount to bribery."
Kent Robertson, a spokesman for Chevron, acknowledged in an interview that the company has paid Guerra and has promised to pay him more. Chevron paid the former Ecuadorian judge $38,000 "for information," some of which was stored on cell phones and computer drives, Robertson said. The company has helped Guerra and four members of his family move from Ecuador to the U.S., and has promised to provide the former jurist and his relatives with $12,000 a month for housing and other living expenses for the next two years, Robertson added. Chevron has also told Guerra that it will pay for health insurance for the family and for legal representation, should Guerra need it. "Guerra asked to come to the United States out of concern for his safety and the safety of his family," Robertson said. "We agreed to help."
Hinton ascribed Chevron's actions to "desperate measures to shore up its ailing legal position" after Judge Zambrano found the company liable for contamination from 1964 to 1992 by Texaco, a company which Chevron acquired in 2001. "Guerra has no credibility," Hinton added. "Chevron CEO John Watson has resorted to authorizing the offering of lucrative benefits packages to former Ecuadorian judges in return for false testimony."
The litigation against Texaco began in New York in 1993. Texaco fought for nine years to get the case dismissed on the theory that Ecuador was a more appropriate forum to sort out pollution liability in the rainforest. Praising Ecuador's judicial system, the oil company won that fight. Then, after the plaintiffs refiled the case in 2003 in Ecuador, Chevron encountered an Ecuadorian court in which Donziger and his team had considerable success keeping the multinational corporation on the defensive.
Despite the February 2001 verdict, Chevron has vowed that it will never pay a dime to plaintiffs represented by Donziger. The company has no assets to speak of in Ecuador, so Donziger's team has launched suits to enforce the Ecuadorian judgment in courts in Canada, Brazil, and Argentina, where Chevron has billions of dollars of assets.
The oil company plans to use evidence of corruption in Ecuador in its civil racketeering suit against Donziger in New York, which is currently scheduled for a trial this fall. The racketeering suit, in turn, could undermine the plaintiffs' attempt to convince judges in other countries that the Ecuadorian judgment was legitimate.
The plaintiffs argue that Chevron is simply attempting to evade Ecuadorian justice, a claim that may find more sympathetic audiences in Canada or Latin America than in New York. At the plaintiffs' request, a court in Argentina recently issued an order seeking to freeze millions of dollars of Chevron assets in that country, according to Hinton, although Chevron disputes the validity of that order.
Two things are clear amid the swirl of novelistic characters, character assassination, and betrayal. First, the legal skirmishing shows no sign of relenting anytime soon. Second, while the lawyers do battle around the world, many thousands of farmers and indigenous Indians in the Ecuadorian rainforest continue to live in close proximity to oil contamination.
Before it's here, it's on the Bloomberg Terminal.
LEARN MORE