MBA Rankings: Top Schools for Diversity
Geoff Gloeckler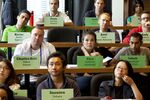 As part of the 2012 Best B-Schools ranking, Bloomberg Businessweek asked MBAs from the Class of 2012 to tell us, via an online survey, about the full range of their business school experience, from getting in to getting a job. One section of the survey singled out specific aspects of the business program and asked the students to rate them on a scale from "poor" to "outstanding." Over the next few weeks, we will look at the top 10 B-schools in each of nine specialty areas, from e-business to information technology, culminating with publication of the entire specialty MBA ranking, including each of the 82 ranked schools.
Today we look at diversity. Based on graduate feedback, most student survey respondents defined diversity as the combination of country of origin, gender, and ethnicity, so schools with a large international population, or a high percentage of female students, tended to fare best. With this in mind, it's hardly surprising that eight of the top 10 MBA programs in this specialty area are based outside the U.S., as these schools tend to get a more globally diverse set of applicants.
The ranking is based on student responses to the question asking them to rank their program's diversity. Points are awarded for each response—one point for "poor" through six points for "outstanding"—and then averaged for each school. The average diversity score for all 82 U.S. and international schools in the ranking was 4.71. At the top of the list is the Fontainebleau (France)-based INSEAD.
INSEAD boasts an MBA student population that is 95 percent international. Eighty nationalities are represented in the classroom. INSEAD also benefits from having campuses in France, Singapore, and Abu Dhabi. "The diversity at INSEAD is unparalleled," says 2012 MBA grad Adrian Lai. "I cannot imagine being teamed up on a group project with a Spanish architect, a French management consultant, an Indian private banker, and an Israeli intelligence officer anywhere else."
Following INSEAD in the diversity ranks are London Business School, IMD in Switzerland, ESADE in Spain, and Thunderbird in Glendale, Ariz.
One outlier on the list is Carnegie Mellon's Tepper School of Business, which ranks eighth. On the surface, Tepper appearing in the top 10 for diversity seems odd because the majority of students at Tepper are white, American men. True, 40 percent of MBAs at Tepper are from outside the country, which is high for a U.S. school, but the number pales in comparison with the other top schools, which average just over 87 percent. So why is Tepper on the list? Grads say it's the school's "diversity of thought." Tepper routinely attracts as many students with engineering and information technology backgrounds as those with financial-services and consulting experience, which brings a valuable mix of viewpoints and experiences into the classroom.
Top MBA Programs by Specialty: Diversity
| | | |
| --- | --- | --- |
| 1. | INSEAD (France) | 5.95 |
| 2. | London Business School (U.K.) | 5.90 |
| 3. | IMD (Switzerland) | 5.74 |
| 4. | ESADE (Spain) | 5.71 |
| 5. | Thunderbird (U.S.) | 5.69 |
| 6. | IESE Business School (Spain) | 5.68 |
| 7. | Erasmus – Rotterdam (Netherlands) | 5.66 |
| 8. | Carnegie Mellon – Tepper (U.S.) | 5.59 |
| 9. | Manchester Business School (U.K.) | 5.58 |
| 10. | HEC – Paris (France) | 5.52 |
Join the discussion on the Bloomberg Businessweek Business School Forum, visit us on Facebook, and follow @BWbschools on Twitter.
Before it's here, it's on the Bloomberg Terminal.
LEARN MORE