Empty Seats: Republicans Balk at Obama Appointees
By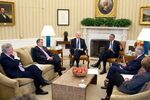 President Obama and Senate Majority Leader Harry Reid suffered a major defeat on Friday when a federal appeals court in Washington ruled the administration had illegally appointed three National Labor Relations Board members while the Senate was on a break last January.
The judges said the Constitution intended for presidents to make such appointments only when the Senate was on an official recess between sessions, not simply when senators were taking time off. The suit was brought by Senate Minority Leader Mitch McConnell and 42 other Republican senators—never mind that recess appointments have been used hundreds of times by presidents from both parties looking to bypass partisan opposition to their nominees. George Bush made 105 recess appointments; Bill Clinton made 95. Obama has made 32 recess appointments.
The case is likely to go to the Supreme Court, which means the constitutionality of recess appointments won't be settled anytime soon. But the effects of the appellate court ruling will be felt immediately. Hundreds of Obama's nominees to posts across the government are being held up by Senate Republicans, and without a way to circumvent the increasingly partisan confirmation process, these job vacancies—already at an all-time high—are likely to remain unfilled.
Last year I crunched congressional statistics and found that 57 percent of Obama's 2011 nominees were approved, compared with 67 percent of those Bush put up for confirmation from 2007 through 2009. (Democrats controlled the Senate then as well.) Democrats don't have enough seats to stop a GOP filibuster, and the threat keeps them from putting the nominees up for a vote.
Before the Senate went on break in December, Reid's office says they "returned" 135 nominees to the White House. Most of the jobs that remain unfilled aren't high-profile, but they're important, including members of the Chemical Safety and Hazard Investigation Board; the Federal Mine Safety and Health Review Commission; a deputy defense secretary; the special trustee for American Indians; and dozens of federal judgeships.
"Returned" is the Washington term of art when a nominee's confirmation gets held up, due to either a filibuster or the threat of one, and his name is kicked back to the administration for reconsideration. The White House can choose to renominate the same people, but it's more likely they'll select a new crop of nominees, and the protracted cycle will begin anew.
Before it's here, it's on the Bloomberg Terminal.
LEARN MORE