Business Lessons From the Michigan Locker Room
Francesca Di Meglio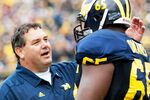 Following on the success of its Football Experience camps, the University of Michigan is launching a version for die-hards looking to expense their fandom. The university's Ross School of Business is introducing a new executive education course called Creating a Winning Culture (June 9-14) that, for $9,850, attempts to distill gridiron lessons into something approaching business wisdom.
Athletic Director David Brandon, who will be teaching the course with football coach Brady Hoke, men's basketball coach John Beilein, and softball coach Carol Hutchins, says the course will "meld the world of sports with the world of business in a way that provides a teaching lesson." We got a sneak peak at a few of those lessons.
When in Doubt, Yell Something Inspiring
Brandon played for the Wolverines in the early '70s, and whenever the team found itself in trouble, it would try to induce a game-changing adrenaline surge by screaming "Sudden change! Sudden change!" Organizations face similar challenges, but the gale-force winds of creative destruction are not so easily calmed. The sports lesson for business leaders: Anticipate change and be ready to turn it into an opportunity.
Focus, Focus, Focus
As a coach, going on the road can be brutal—entering the stadium, the team is greeted by the roar of 50,000 crazed home-team fans who want nothing more than to see you humiliated. As a coach, Brandon says, you have to teach your team to block out the noise and rise to the challenge. The problem is much the same for business leaders, who have to get their teams to ignore distractions and focus on the task at hand. The lesson: Keep the team focused for maximum performance.
Failure Is Not an Option
On the NBC drama Friday Night Lights, the high school football team frequently got its clock cleaned in the first half, only to come back strong in the second. In football, an inspiring halftime pep talk can transform a team in minutes. Kim Cameron, one of the management professors who will be teaching the course, says transforming employees and entire companies may take longer, but businesses can make use of some of the same kinds of techniques. "Individuals experience failures or low performance," he says. "They have to develop resilience, a way to bounce back from failure and disappointment. It's the same for an organization." The lesson: Use failure as a spur to improve performance.
Does the world of college athletics have anything to teach the world of business? Maybe. There's no doubt that Brandon learned a ton from his own coach, the late and legendary Bo Schembechler, that he later used during his stint with Procter & Gamble. Coaches, like executives, have to be good at recruiting and nurturing talent, and teamwork is critical to both enterprises. And, yes, secret hand signals and a colorful vocabulary come in handy for both.
Join the discussion on the Bloomberg Businessweek Business School Forum, visit us on Facebook, and follow @BWbschools on Twitter.
Before it's here, it's on the Bloomberg Terminal.
LEARN MORE