Using a Traffic App Cuts Commutes, Manages Anger
by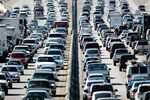 If you think your slog to work was bad this morning, brace yourself. It's about to get a lot worse. The average commuter will endure an additional three hours of traffic delays annually by 2015, and by the end of the decade, a typical commuter will spend 41 hours per year in traffic, up from 14 in 1982.
From Lagos to Los Angeles, the ever-lengthening commute may be one of the most intractable problems facing big cities and surrounding suburbs. Attempts to unclog the roadways, including London's congestion charge and road-space rationing in Brazil, have met with limited success. In the U.S., traffic congestion costs Americans $100 billion annually in wasted fuel, excessive carbon emissions, and lost productivity. The psychic toll is unquantifiable.
Could a free, traffic-planning app save our cities and our frazzled nerves?
Recently, a group of researchers set out to find out. The study of the "connected commute" involved 15,000 motorists in San Jose, many of whom use the user-generated traffic-data-sharing app Waze and a newer rival, Roadify. It looked at how existing mobile technologies can keep city traffic flowing, cut down on CO2 emissions, and get us home quicker.
The apps work to cut commute times, the researchers found, but there was something else: Using the apps nearly wiped out road rage. "Motorists told us, 'We feel like we are helping others out, and that makes us feel better about ourselves,'" says Mathieu Lefevre, executive director of the New Cities Foundation.
They do require drivers to use their phones behind the wheel—which is against the law in 39 states. Drivers are supposed to use the app while they're stopped; the software will not permit you to input data if your car is in motion.
With 34 million commuters around the globe, Waze users are by far the largest community of connected drivers. Every day, they use their smartphones' satellite signals to generate and map traffic data. With a few taps you can tell all the Wazers when, where, and why you are delayed, and the detail is plotted on a map. You do so by tapping an icon for, say, "traffic," "accident," "police," or "other"; the last one works well for construction snags or mega-pothole sightings.
Waze users grew more than threefold last year, and "we expect that rate to at least stay the same if not increase this year," says Chief Executive Officer Noam Bardin. The company was rumored to be an Apple takeover target earlier this month. Last year, Waze overtook the entire sector of sat-nav heavyweights, adding more users than the number of portable navigation device units sold, according to Mary Meeker's most recent Internet Trends report.
Still, Waze, which was launched in 2008 by Israeli software engineers, has only had a meaningful revenue stream since November when it introduced in-app advertising. "I can exist on advertising because my costs are so low," Bardin says, a nod to the millions of Waze cartographers updating the roadways right now. And feeling pretty good about it.
Before it's here, it's on the Bloomberg Terminal.
LEARN MORE