Small Business Bankers Out at Citi, In at BofA
by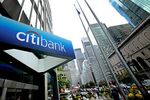 Citigroup is firing some of its small business bankers, Bloomberg News reports, even as rivals including Bank of America are hiring.
Citi didn't disclose the number of small business bankers it laid off in part of a broader overhaul by Chief Executive Officer Michael Corbat, but the bank told Bloomberg it's on track to meet its lending goals. Bank of America this week announced that it completed hiring of 1,000 small business bankers, a goal it set in 2010. (At the time, BofA said it hoped to hire that many by early 2012.)
Both banks were among the largest recipients of government bailout loans following the financial crisis in 2008, receiving $45 billion each. They have since repaid the bailouts. Although the government's bank rescue was sometimes framed as a way to keep credit flowing to Main Street businesses and consumers, banks that took taxpayer money reduced lending to small businesses more than other banks, according to recent research commissioned by the Small Business Administration.
Read the full story about Citi's cuts.
Before it's here, it's on the Bloomberg Terminal.
LEARN MORE