Lagarde Says It's Not the Time for Euro-Area Leaders to Relax
Svenja O'Donnell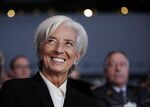 International Monetary Fund Managing Director Christine Lagarde said this isn't the time for Europe's leaders to relax and policy makers should take over the baton from central banks.
"Keep the momentum, it's not time to relax," Lagarde said today in an interview with Bloomberg Television's Tom Keene and Francine Lacqua in Davos, Switzerland. "This is a really serious situation."
The euro-area crisis has shown signs of abating, with a report today showing German business confidence improved more than economists predicted this month. European Central Bank President Mario Draghi suggested this week that the worst may be over.
Still, Lagarde cautioned that while "we avoided collapse," economic-growth numbers "are not especially good anywhere except in the U.S., where the economy is picking up more nicely."
"Policies decided in 2012 are heading in the right direction," Lagarde said. "Central banks have done what they could to act as firemen and now it's for policy makers to take over the baton."
The ECB's Outright Monetary Transactions program is more than just verbal intervention, she added.
"The tool is in the box and that's what matters," she said. "Six months ago it wasn't there."
Before it's here, it's on the Bloomberg Terminal.
LEARN MORE