In Davos, the World Economic Forum's Big, Unintelligible Ideas
by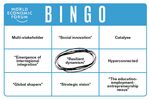 This week the world's wealthiest and the best-connected have gathered in Switzerland for the World Economic Forum's annual meeting. An exceedingly diverse group of business and policy titans are schmoozing, paneling, and work-shopping their way through the world's top intractables: climate change; a tattered euro zone; and who could forget the eternally vexing problem of "Catalysing Multistakeholder Value"?
Unfortunately, we may never know if the galactically rich and erudite membership of the WEF actually hashes out good ideas at their meetings, for those ideas are always cloaked in the most abstruse business jargon. The program for this year's Davos summit is practically a B-school tone poem. "Sailing Towards a Circular Economy." "The Values Context." And, neatly dovetailing with the meeting's overall theme of "Dynamic Resilience," an address by Christine Lagarde is titled, "Resilient Dynamism."
Is this an outbreak restricted to Davos? Sorry, close but no deliverable: Materials posted for the WEF's Summit on the Global Agenda, which takes place a few months before Davos, explain how the World Economic Forum Global Agenda Councils meet to discuss "how to transform new models into collaborative, sustained processes." At the Global Meeting of Regional Organizations, more "thought leaders" meet up for an "ongoing dialogue to catalyse international cooperation in the global public interest."
Feel those actionables synergizing yet? The yearly "summer Davos" in China, the Annual Meeting of the New Champions, is "a unique platform for multistakeholder exchange and learning among global leaders."
Maybe words are just not the WEF's strong suit. These are "ideators," not writers. Possibly with that in mind, the WEF tried to sum up the conclusions from this year's Rebuilding Europe's Competitiveness with one of those live whiteboard sketching services. Alas, the results, while fun to look at, don't really clear things up.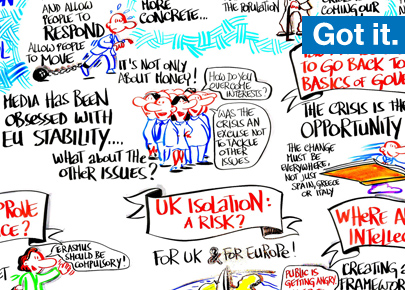 Come January, all the clear-as-carbon ideas spawned at the WEF's lesser meetings are tossed into the Davos thresher, where the most influencing of the influencers shell out a few hundred thousand to attack the real questions. Sadly, those questions include head-scratchers like "how can jazz serve as a strategic model for diplomacy, leadership, collaboration and innovation?" While they mull that one, the world waits with bated breath to see what truths the forum will carry down from the Alps. Actually, that last one doesn't seem silly once you consider the similarities between jazz and the WEF: It's all about the buzzwords they're not saying.
Before it's here, it's on the Bloomberg Terminal.
LEARN MORE