Why the New Myspace Has No Advertisers—Yet
by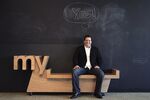 Last week, Justin Timberlake and executives at Specific Media threw open the doors to the new Myspace and welcomed in the general public en masse for the first time. The newly reconfigured, music-centric platform offers potential users myriad enticements: a new Justin Timberlake single, a robust music catalogue, shiny personal profile pages, vintage Ice-T tracks ("You don't know me, fool. You disown me, cool. I don't need your assistance, social persistence…"), a jumbo search bar, and a lustrous, effervescent design that seemed the antithesis of the original site's kaleidoscopic, techno-junkyard aesthetic.
But despite it all, the reincarnated Myspace emerged notably incomplete. The free, ad-supported site was lacking one crucial thing—ads.
The argument in favor of revitalizing the site with more music and fewer ads has a history among Myspace cognoscenti. In the summer of 2011, looking back at the site's rise and inglorious fall, Myspace co-founder Chris DeWolfe lamented to Bloomberg Businessweek that despite acquiring the licensing rights to a huge amount of music, Myspace had somehow failed over the years to build a great music player.
At the same time, DeWolfe said that one of the major mistakes Myspace had made was trying to monetize the site too rapidly. According to DeWolfe, after News Corp. purchased the site in 2005 for $580 million, Myspace executives were under constant pressure to hit quarterly revenue targets. The result, DeWolfe argued, was that the sales team crammed Myspace with a surfeit of junk display ads that hurt the overall quality of the Myspace experience and helped drive away users. "Remember the rotten teeth ad?" said DeWolfe. "And the weight-loss ads that would show a stomach bulging over a pair of pants?"
Well, not specifically. But we remember the aura.
It's an impression that the executives at Specific Media, which bought Myspace in 2011 for $35 million, are keen for you to forget. Which might help explain why there were no corporate partners last week warmly welcoming the curious into the sparkling new showroom.
At the peak of its popularity in 2008, Myspace generated an estimated $605 million in ad revenue, according to eMarketer. In 2011, that number had dropped to a mere $47 million. In 2012, as a result of the site's rapid decline in the marketplace, eMarketer stopped tracking Myspace's ad revenue altogether.
Neda Azarfar, a spokesperson for Myspace, writes via e-mail that the new site is still in beta. Thus, no ads—for now. She declined to provide a specific estimate when the first ads might begin appearing on the new platform, but she confirmed that the site's business model remains ad-supported.
"It's important to note, however, that you'll never (ever) see the same old blinking banner ads that plagued the classic Myspace site," she writes. "Design leads with the new Myspace, and advertisers will fit into the look and feel of the site in every way."
So far the decision to postpone the onset of ads looks like a savvy strategic move. Last week, thanks in part to the open, airy feel of the new ad-free site, Myspace enjoyed largely positive reviews.
"They appear to be playing the long game here," says Stewart Devlin, the chief creative officer of Red Peak, a global company that works with businesses on rebranding strategies. "The site is beautiful. You really got the sense of open space as you go through the pages."
"I kept flipping from the old site to the new site," he adds. "The old site had a big T.G.I. Friday's ad right on the home page. You went to the new one, and it felt so lovely and refreshing."
How lovely and refreshing will the site look once Myspace welcomes advertisers into the mix?
Gian LaVecchia, managing partner and digital lead at MEC, a media planning agency, doubts that Specific Media will go back to the days of gorging on display ads. The more likely tactic, says LaVecchia, is that Myspace will rely on revenue from (a) preroll video ads and (b) some form of branded content or "native advertising."
In its new iteration, Myspace is primarily a music recommendation site. LaVecchia says Specific Media should be able to pair music videos with expensive preroll ads—a category that is currently one of the fastest-growing and most lucrative forms of digital advertising.
Specific Media executives have spoken glowingly in the past about online video ads. In the summer of 2011, just prior to acquiring Myspace, the company published a research report heralding a "major jump in online video effectiveness" for advertisers.
LaVecchia expects that Myspace will also continue to experiment with "branded content"—a form of advertising in which corporations create stories that live among a platform's endemic products and share the same underlying aesthetic and sensibility. Myspace Entertainment President Roger Mincheff has a strong background in the genre.
Before joining Myspace, Mincheff oversaw a branded entertainment division for News Corp.'s Fox Filmed Entertainment. Shortly after his arrival at Specific Media, Myspace announced it was teaming up with Taco Bell to host a branded entertainment series on the old site about a zany music blogger dedicated to helping bands jump-start their careers. "Underlining the synergistic nature of the partnership, the show's final episode will feature Taco Bell's new Doritos Locos Tacos," Myspace announced at the time.
Sloan Broderick, the head of MediaCom Beyond Advertising, predicts that if consumers embrace the new Myspace, entertainment and lifestyle brands will follow. "There are a lot of things they have to do to build audience in order for it to be attractive for a brand to be there," says Broderick. "But they are thinking about design in terms of big, bold, beautiful imagery and video. What I think we're going to see over time is a new place for brands to participate in the storytelling realm that we haven't really seen on a social network before."
Brenda Fiala, a senior vice president at Blast Radius, says that while Myspace's new direction differentiates the platform from the likes of Facebook, its puts them in competition with a range of digital music services, including Pandora, Spotify, and SoundCloud. Myspace's new design, she points out, closely resembles Artists.MTV—a social-music discovery site (which also features a jumbo search bar) that MTV rolled out last year. At the time, it touted the site as a next generation Myspace.
"I don't see anything on the new Myspace music platform that you can't do elsewhere," says Fiala. "Therefore, what is the compelling reason to join? If there's no compelling reason to join and no audience, why would advertisers be interested?"
Fiala predicts that for the most part brands will take a wait-and-see approach with the new Myspace. To date, no formerly dominant social media network has been able to lure back large amounts of advertising once it has fallen from the top of the pack. "This is seeing if you can revive a ghost town," says Fiala.
Before it's here, it's on the Bloomberg Terminal.
LEARN MORE