Wells Fargo Builds a Trading Floor in Charlotte
Wells Fargo counts on Charlotte's charm to attract trading talent
by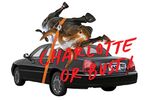 Wells Fargo is betting its securities business can thrive 600 miles from New York in Charlotte—the same city Bank of America's traders have largely abandoned. The first of 900 Wells Fargo employees moved into new offices on two floors of a 48-story tower in Charlotte in December. The bank has room for about 1,200 traders and support staff in the 70,000-square-foot space, which features more than two dozen 70-inch, high-definition television screens and under-floor cooling with customizable vents.
John Shrewsberry, president of the unit, is counting on the appeal of a relaxed lifestyle, cheaper housing, and Wells Fargo's status as a growing company to lure talented investment bankers and traders to Charlotte. "On a day-by-day basis in terms of information flow, it's all electronic, and we're as wired as anyone else," says Shrewsberry, who's based at Wells Fargo headquarters in San Francisco. "People don't run out of their buildings in downtown or midtown Manhattan and meet in the street to talk about markets."
From their windows, the Wells Fargo workers can see the complex a half-mile away where Bank of America built its own state-of-the-art facility less than a decade ago for about 550 traders and bankers. Bank of America, which is headquartered in Charlotte, moved most of them out after its 2009 purchase of New York-based Merrill Lynch. Even before the purchase, Bank of America was staffing up in New York because the pool of talented traders was so much deeper there, according to a former executive at the bank. The best traders were reluctant to make the move to Charlotte knowing that if it didn't work out, they'd have fewer job options, says the person, who did not wish to be quoted because he didn't have the bank's permission to comment. Bank of America's experience doesn't discourage Shrewsberry. "I haven't read anything into their decision-making that's made us rethink our approach," he says.
Wells Fargo already had an investment banking operation in Charlotte as a result of its 2008 acquisition of Wachovia, which was based there. Wells Fargo became the fourth-largest in the U.S. by assets by focusing on consumer businesses such as mortgage lending. The new space in Charlotte is a sign that it wants to expand in investment banking, including trading stocks and bonds, advising on mergers, and helping clients sell debt and equity. Investment banking revenue at Wells Fargo rose 30 percent in 2012 from a year earlier, and the firm is inching up the industry rankings. Investment banking could account for 10 percent of Wells Fargo's total revenue in two to three years, according to a May estimate from Deutsche Bank. At competitors, the figure is 20 percent or more.
"There are going to be certain slices of the banking industry that will scoff at the idea" of basing a trading business outside New York, says Darin Buelow, a principal at Deloitte Consulting in Chicago. Anik Ray, who worked as a subprime-mortgage-bond strategist for Wachovia in both New York and Charlotte, preferred the big city in part for its social life. "In New York, I had the opportunity to call my buddy who I used to work with, have a drink with him," says Ray. He liked the proximity of clients, too. Working in Charlotte, he says, "You were in touch with as many people, but you have to be on the road a lot more or have really, really good relationships."
One lure for prospective employees is the cost of living: Charlotte's is about 44 percent lower than Manhattan's for a family of four, according to compensation consultant ERI Economic Research Institute. In Charlotte's Eastover section, long an outpost of the wealthy, an 11,300-square-foot home with nine fireplaces, built on three acres abutting a nature preserve, was listed for $3.45 million in mid-December, according to property website Trulia. In New York, the same money buys a 2,000-square-foot, two-bedroom apartment in the Trump World Tower across from the United Nations, with access to a 60-foot swimming pool, room service, and valet parking.
That may allow Wells Fargo to save on salaries, usually the No. 1 expense for securities firms, says Joseph Sorrentino, a managing director at compensation consultant Steven Hall & Partners. Stockbrokers in Charlotte with 14 years of experience make about 16 percent less than they would in Manhattan, and investment managers earn about 14 percent less, according to ERI.
Of course, money isn't everything, even for a banker. "For those bankers with a family, it might not be about the money but more about the lifestyle," says Michael Karp, chief executive officer of executive-search firm Options Group. Moshe Orenbuch, a bank analyst at Credit Suisse Group, says Wells Fargo will be just fine in Charlotte. "Will you be able to get everyone you want? Probably not," he says. "Will you be able to get enough to staff your operation? Yes."
Before it's here, it's on the Bloomberg Terminal.
LEARN MORE