pursuits
Suzanne Lee's BioCouture: Fashion Grown From Bacteria
Lee grows beautiful, wearable dresses and accessories—using only cultured bacteria
Christopher Bonanos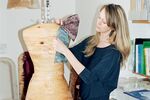 This is really in its infancy, no?
I'm still very much focusing on apparel and luxury products—jewelry, things that use small amounts of material. The lab materials are quite expensive and are not being produced in great volume. But the resources you need are just a few microbes, which will multiply and feed on waste. Your costs are literally nothing once it's set up.
So how do you make, say, a shirt?
We have wet space where we store growing bacteria sheets. Once they're ready, I cut and stitch them together into my designs. The result is not dissimilar to leather. It's pliable, and body heat softens it when you wear it.
Are you a biologist or a fashion designer?
I'm not creating organisms myself—I'm thinking about what functionality can we introduce genetically, with a consumer application in mind. I have various scientists I work with. I go to them and say, "How can we get this quality?" You can program the biodegradability of it: "I want this to last three months," or three years. If you can program that in, it answers sustainability issues around massive consumption.
Would it ever replace leather, practically speaking?
An animal has, in terms of land and pesticides, a footprint. Leather manufacturing is a toxic process. And if you were to compare a jacket made of our material with one of cotton, ours takes 50 liters of water, and the other takes thousands of gallons. We can potentially solve a lot of problems that way.
Your employees are very, very tiny.
Invisible, in fact! I don't want to say much about my next project—things are taking a little longer than expected. But I would love to grow a shoe.
Before it's here, it's on the Bloomberg Terminal.
LEARN MORE