South African Miners Are Trapped by Debt
A surge in high-interest lending contributes to mine violence
by , , and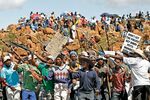 In 2008, platinum miner James Ntseane borrowed 8,000 rand ($886) from African Bank Investments to pay for his grandmother's funeral. Soon after, he took out two more loans, totaling 10,000 rand, for a sofa and house extension. Four years later he owes at least 30,515 rand, according to text messages he gets from African Bank, South Africa's biggest provider of unsecured loans. Under a court-ordered payment plan, his employer garnishes about 13 percent of his monthly 12,600-rand salary for the lender. He doesn't know how much interest he's paying. "They are taking too much money," says Ntseane, 41.
Ntseane is one of more than 9 million South Africans mired in debt. African Bank, Bayport Financial Services, Capitec Bank Holdings, and other firms have led a boom in unsecured lending, charging interest as high as 80 percent a year, as is allowed there. Last year a series of strikes led to at least 46 deaths, the country's worst mining violence since the end of apartheid. "One of the contributing factors to all of these strikes has been this surge in unsecured lending," says Mike Schussler, chief economist at the research group Economists.co.za, echoing an October statement by Trade and Industry Minister Rob Davies.
The value of consumer loans not backed by assets such as homes rose 39 percent in the year through September, to 140 billion rand, reports the National Credit Regulator. The loans made up 10 percent of consumer credit on Sept. 30, up from 8 percent a year earlier. In November, South Africa's National Treasury and the Banking Association of South Africa agreed to review lending affordability rules, improve client education, and reduce wage garnishing after the number of people with bad credit rose to a record. Finance Minister Pravin Gordhan called the rise "worrying" a week earlier.
George Roussos, an executive for central support services at African Bank, says miner Ntseane borrowed more than he claims and took out a credit card. (The bank received permission from Ntseane, who denies the bank's figures, to discuss his account with Bloomberg Businessweek.) The bank says it stopped charging interest in 2011 and has no record of Ntseane making contact after he was injured in a home robbery in 2010. "The bank attempts to communicate clearly and transparently, employing multilingual consultants," says Roussos.
South African lenders have resorted to court-ordered wage garnishing in more than 3 million active cases, according to the National Debt Mediation Association, a credit industry group that provides consumer debt counseling. Kem Westdyk, chief executive of Summit Garnishee Solutions, which helps mining companies review bank requests, says at some companies up to 15 percent of workers have wages garnished; at one, more than a quarter of those cases involve African Bank. "They may have reckless lending problems," says Westdyk, adding that some workers have five or six garnishee orders against them.
Ntseane says his loan agent didn't mention garnishment when she agreed to delay his loan payments. Although Davies and the country's credit regulator have pledged to clamp down on unsecured lending, Ntseane doesn't have high hopes. "I don't know when I will stop paying," he says.
Before it's here, it's on the Bloomberg Terminal.
LEARN MORE