business
Some of Dell's Stumbles Were Purely Financial
By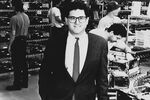 How many glowing profiles of Dell led with the requisite bit about Michael Dell founding the personal computer pioneer out of his Texas dorm room in 1983? The longtime tech titan became a staple business school case study, a model of supply-chain management that bestowed many happy returns on its early shareholders.
Now a humbled Dell finds itself reaching for any extra consideration in a leveraged buyout, with fellow struggler Microsoft potentially kicking in some financial aid. Even if the deal approaches $25 billion—big for the here-and-now—Dell is a company that not long ago was worth multiples as much.
It's easy to chalk up Dell's troubles to its missing out on the fall of the PC and being product tone deaf on mobile devices, much as BlackBerry-maker Research in Motion got iGored. Dell's PC shipments, which still count for a majority of its business, are down 21 percent in a year, according to IDC.
But read a tad deeper, and you will find that Dell's decline is perhaps more about financial failure than straight-up strategic missteps—and that the Dell story was over before the iPhone or iPad ever made their debuts.
Six years ago, founder Michael Dell returned to a company that had already lost its way. "There is no better person in the world to run Dell at this time than the man who created the direct model and who has built this company over the last 23 years," remarked Samuel Nunn, the company's lead director, in the release heralding the founder's return to the chief executive's suite.
Perhaps so, but in July 2010 the Securities and Exchange Commission slapped the PC maker with a $100 million penalty, charging its senior executives with "disclosure and accounting fraud." "Accuracy and completeness are the touchstones of public company disclosure under the federal securities laws," remarked then-SEC enforcement director Robert Khuzami. "Michael Dell and other senior Dell executives fell short of that standard repeatedly over many years, and today they are held accountable." The founder had to cough up $4 million but was not forced to relinquish his CEO role.
The SEC's complaint alleged that from fiscal year 2002 through fiscal year 2006, Michael Dell and his former CEO and chief financial officer "cookie jarred" reserves—money they could tap to smooth earnings—fed by exclusivity payments from component partner Intel. That inflow allowed the company to misrepresent how it consistently met or beat Wall Street's profit estimates. The SEC calculated that without Intel's kickback, Dell would have missed the analyst consensus earnings estimate in every quarter during that four-year period.
"In dollar terms," said the SEC action, "the reduction in Intel exclusivity payments was equivalent to 75 percent of the decline in Dell's operating income"—a material reality it argued that management was not forthcoming about. In Dell's second-quarter fiscal 2007 earnings call, according to the SEC action, the company "told investors that the sharp drop in the company's operating results was attributable to Dell pricing too aggressively in the face of slowing demand and to component costs declining less than expected."
Dell neither admitted or denied the SEC's allegations. Company spokesman David Frink would not comment Jan. 22 on the potential buyout, Dell's share price, or the SEC action. He noted Dell's focus on profitability during its founder's return as CEO. "The claim that our earning power is gone is absurd in the face of our results," Frink says. Dell's diluted earnings per share grew (pdf) from $1.35 to $1.88 from 2011 to 2012. Shares recently hit multiyear lows before popping back on buyout speculation. Even so, the stock remains down more than 21 percent in the past 12 months.
Cindy Shaw, who was a service and support manager at Dell in the early 1990s and is now an analyst with research firm Discern, calls Michael Dell "the illusionist," owing to the aforementioned accounting issues. "Dell's glory days only really ran from 1995 to 2000, when the dot-com boom had everyone buying PCs," she says.
Dell's past earnings also got an artificial boost, in Shaw's opinion, because it did not have to expense stock options before 2006, the year accounting rules mandated that such costs be counted. Shaw says stock options were disproportionately important for employee retention at Dell, which was known to pay workers modest base compensation. She says that by not accounting stock options, Dell was able to boost its non-GAAP earnings per share by as much as 57 percent. In fiscal 2005 alone, this would have cut Dell's non-GAAP operating margin from 8.6 percent to 6.6 percent, Shaw said. Intel exclusivity payments, she says, went from representing 10 percent of Dell's operating income in fiscal 2003 to 76 percent to start fiscal 2007. Consistent with the SEC's findings, this points to a company hiding underlying sales weakness by tapping reserves that did not represent operational gains.
"You must ask," Shaw says, "were they really that profitable after riding the late 90s PC wave? What were they going to ride now?"
Dell going private at "materially" above $13-$14 a share is unlikely to allow for attractive returns, wrote Sterne Agee analyst Shaw Wu in a report earlier this week. Further complicating the deal: Most of Dell's cash sits overseas. Wu, a prominent Dell skeptic, still rates the stock as "neutral." Moreover, Barron's said that a $14 buyout (well off its year high above $18) would likely face objections from large holders, such as Dodge & Cox and Southeastern Asset Management. Dell shares have also drawn in and disappointed value-minded hedgies such as David Einhorn and Whitney Tilson.
Speaking of stockholders: Another overused Michael Dell yarn is his now infamous comment in 1997 that Steve Jobs, Apple's founder and recently restored CEO, should "shut it down and give the money back to the shareholders." In a 180-degree reversal of fortunes, Dell himself is on the brink of having to refund those constituents, so to speak.
Before it's here, it's on the Bloomberg Terminal.
LEARN MORE