McCarthy Presses Gun-Magazaine Limits as Weapons Ban Dims
Heidi Przybyla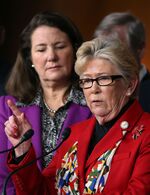 The drill for Representative Carolyn McCarthy has been relentless during the past 10 years: another mass shooting, a plea for Congress to ban the high-capacity ammunition magazines, and then nothing.
Now, such a ban may be the Democrats' best chance for passage of any legislation that centers on weapons hardware in the aftermath of last month's school shooting in Newtown, Connecticut.
"If you take away the bullets, it really doesn't matter what kind of gun you have," McCarthy said in an interview.
Senator Frank Lautenberg, a New Jersey Democrat, introduced legislation on Jan. 22 to ban the manufacture and sale of ammunition magazines holding more than 10 rounds, which echoes McCarthy's House bill and meets a goal set by President Barack Obama. And today McCarthy, a New York Democrat, also offered a broader ban on sales of assault weapons, along with Senator Dianne Feinstein, a California Democrat.
The legislative push marks the first time in more than a decade that Congress will debate taking aggressive action to curb gun violence. The Republican takeover of the U.S. House in 1994 came just months after passage of an assault-weapons ban and was fueled by gun-rights advocates. Concerns about a similar political backlash kept risk-averse lawmakers from addressing the issue until the Connecticut slaughter of children prompted a public outcry.
Feinstein's Bill
Feinstein said her legislation would prohibit the sale and manufacture of 158 of the most commonly owned military-style assault weapons. The weapons have become more "lethal and technologically advanced" since 1993, she said.
"We should be outraged for how easy it is for perpetrators of these horrific crimes to obtain powerful military-style weapons," she said. The new bill doesn't contain the same exceptions that allowed manufacturers to skirt it after 1994, she said.
It's unclear how far it will go in Congress, Feinstein said. "We don't know, it's so uphill," she said. "It depends on the courage of Americans."
While limiting magazine capacity won't prevent all future gun violence and mass shootings, Democrats argue it may reduce the number of casualties.
"Ammunition right now is the black hole of gun-violence prevention," said Connecticut Senator Richard Blumenthal, a Democrat who's devoted much of his time to the issue since Newtown.
More Than 70
There have been more than 70 mass shootings since the Jan. 8, 2011, attack that critically wounded former Representative Gabrielle Giffords, an Arizona Democrat, according to the Brady Campaign to Prevent Gun Violence. Giffords has founded Americans For Responsible Solutions to advocate for new laws to prevent gun violence.
In the Tucson, Arizona, shooting, Jared Lee Loughner fired 31 bullets in 15 seconds from a Glock 19 pistol. He was tackled when he stopped to reload. High-capacity magazines were also used in mass shootings at Virginia Tech in 2007, Fort Hood in 2009, in an Aurora, Colorado, movie theater in 2012, and in the Sandy Hook Elementary School massacre last month.
McCarthy's husband was killed in a 1993 Long Island Rail Road shooting, when Colin Ferguson used a high-capacity magazine to kill the congresswoman's spouse and five others.
The event spurred her entry into politics and she's been fighting ever since to take off the streets the type of assault weapons and rapid-fire ammunition-feeding devices that inflict maximum damage.
High-Water Mark
The ban on such magazines may be the high-water mark for a Democratic Party that is reconciling its desire for sweeping gun legislation with what is politically achievable in the current Congress.
Democrats are expecting opposition, including from some of their own members, to renewing a ban on some forms of assault weapons. Even Senate Majority Leader Harry Reid, a Nevada Democrat, expressed pessimism that it's feasible in the House.
If history is a guide, there is a narrow window for new legislation before the memory of Newtown fades and, with it, public support for new laws.
"If this lapses into the spring and summer, I think the chance will be gone," said Robert Spitzer, an author of four books on gun control, including "The Politics of Gun Control."
Public Support
An ABC News/Washington Post poll released today found most Americans have a favorable view of Obama's proposals to curb violence, with 53 percent favorable versus 41 percent viewing them unfavorably. In addition to banning high-capacity magazines, Obama recommended reinstating the assault-weapons ban, new gun-trafficking laws and increased access to mental health treatment.
Passing a high-capacity magazine ban will be a struggle in the Republican-led House. It does "not address what happened at Newtown," said Representative Trent Franks, an Arizona Republican. "They're trying to make sure that no tragedy goes unexploited," he said. "I want to see efforts that will actually protect the children."
Yet advocates say, the murder of 20 children, most of them 6-year-olds, may make it possible.
"What does it take to move a nation, what does it take to move a Congress?" Democratic Senator Dick Durbin of Illinois, said at today's news conference with Feinstein. "It took 20 children in Newtown, Connecticut."
"It was the tipping point in this national conversation," Durbin said. "We can only do as much as the American people help us do," he said. "Their silence can't win this issue."
Introducing Legislation
In every congressional session except one since 2004, the year the federal assault-weapons ban expired, McCarthy has introduced legislation to ban high-capacity magazines. Every time her bill has failed to reach the House floor for a vote.
"This has always been a very lonely fight," McCarthy said, recalling solo television news appearances over the past decade and visits to the office of House Speaker John Boehner, an Ohio Republican, following recent shooting sprees. "This time it has been different; the American people are responding overwhelmingly."
Semiautomatic firearms eject one round of ammunition with every trigger pull and, outfitted with a high-capacity magazine, they can be fired numerous times before reloading is necessary. Shooter James Holmes used a 100-round magazine to kill 12 and wound 58 in July 2012 at the Aurora movie theater.
15 Rounds
David Chipman, a former special agent with the Bureau of Alcohol, Tobacco, Firearms and Explosives, said he used to employ a magazine that carried 15 rounds. "High-capacity magazines in the wrong hands turn a killer into a killing machine," he said at a congressional hearing yesterday. "It is inconceivable to me that any American would require more rounds in a magazine than a special agent."
The National Rifle Association, the nation's biggest gun lobby, based in Fairfax, Virginia, opposes a magazine ban. They are a powerful crime deterrent and means of self-defense, for instance, during a home invasion, said Mike Hammond, legal counsel to the Gun Owners of America.
"I'm not sure how good a shot these people expect homeowners to be in the middle of the night," said Hammond, whose group is a Springfield, Virginia-based lobbying nonprofit. "If your gun fires only seven shots or 10 shots, you are dead." Hammond also said it will be all but impossible to remove an estimated 40 million high-capacity magazines already in circulation.
1994 Ban
The now-defunct 1994 weapons ban limited the number of rounds publicly sold magazines can hold to 10.
According to a 2011 Washington Post analysis, the 2004 assault-weapons ban was effective in shrinking the volume of high-capacity magazines. The number of guns with such magazines seized by Virginia police rebounded sharply every year since the 2004 ban was lifted. In 2010, guns with high-capacity magazines amounted to 22 percent of the weapons recovered by police. In 2004, the rate had reached a low of 10 percent, the Post analysis found.
Ammunition manufacturers, some of them NRA leaders, have a financial stake in preventing the ban.
Pete Brownell, owner of Brownells Inc. and an NRA board member, sells a wide range of high-capacity ammunition magazines for pistols and assault weapons, including the same Glock magazine as the 33-round one used in the Arizona shooting. Company spokeswoman Sarah Perry had no immediate comment.
New Products
Since the assault-rifle ban and the high-capacity magazine ban were lifted in 2004, "you've seen a proliferation of new product launches in those categories," said Rommel Dionisio, a New York-based analyst at Wedbush Inc., an equity-research firm. "That's really been one of the key drivers to strengthen the firearms industry overall."
MidwayUSA is a Missouri company that sells firearms accessories. MidwayUSA created a fundraising program that has generated $5.7 million for the NRA's lobbying operations, according to the Violence Policy Center, a Washington-based group that advocates for gun regulations.
"The change in public opinion isn't strong enough to advance something like the assault-weapons ban, but it might, if the politics are done properly, be enough to advance a high capacity magazine ban," said John Hudak, a fellow at the Brookings Institution in Washington.
Before it's here, it's on the Bloomberg Terminal.
LEARN MORE