It Pays to Own an Energy Pipeline. Thanks, Tax Code
A Texas oilman made billions with help from a little-known tax break
By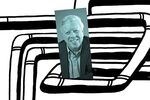 Getting stiffed for the top job at Enron was the best thing that ever happened to Richard Kinder. In 1996, Kinder, then the company's president, was beaten out for the chief executive slot by his college buddy Kenneth Lay. So Kinder struck out on his own. He and a partner, Bill Morgan, paid $40 million to acquire "sleepy, old pipelines" from Enron, which was shifting its focus from delivering energy to trading gas and power.
As Enron collapsed in scandal, Kinder embarked on a 15-year buying spree, acquiring dozens of other pipelines. That's made him the richest man in Houston, with a fortune the Bloomberg Billionaires Index estimates at $10 billion. (Morgan retired in 2003.) Kinder Morgan Energy Partners and its related companies now control 75,000 miles of pipelines, enough to circle the globe three times. It's the third-largest energy business in the U.S., behind ExxonMobil and Chevron.
Kinder owes a good part of his fortune to a little-known provision in the tax code—sure to be scrutinized if Congress tackles corporate tax reform this year—that allows energy companies to structure their businesses to avoid most or all corporate taxes. Two of Kinder's companies, Kinder Morgan Energy Partners and El Paso Pipeline Partners, which own his pipelines, are organized not as corporations but master limited partnerships, or MLPs. Like corporations, MLPs can have thousands of investors and are publicly traded. But under the law, investors in MLPs are partners, not stockholders. The IRS counts each partner's slice of the company's profits as ordinary individual income, allowing the company itself to legally avoid the 35 percent federal corporate tax.
Kinder Morgan Energy Partners is one of about 90 tax-free publicly traded partnerships that have taken over the U.S. pipeline business, partly by gobbling up dozens of tax-paying companies and absorbing them into MLPs. Their tax advantage helps them attract investors and outbid corporate competitors. Take Tennessee Gas Pipeline, which for more than 60 years has linked natural-gas wells in Texas to customers up north. Until last year, it paid corporate income taxes—$107 million in 2011. Last August, Kinder Morgan bought the pipeline. Tennessee Gas's tax bill dropped to zero.
Publicly traded oil and gas partnerships generated a record $16.7 billion in pretax profit in 2011, up from $7.2 billion in 2007. Their market value has swelled more than 12-fold in the past decade to about $340 billion. Thirteen MLPs went public in 2012 in an otherwise lackluster year for stock debuts. The break for MLPs will cost taxpayers about $1.5 billion from October 2010 through September 2015, Congress's Joint Committee on Taxation estimates.
Richard Kinder declined to be interviewed. Kinder Morgan spokesman Larry Pierce, in a written statement, said the company's corporate side has paid a total of $3.4 billion in taxes since 1997. "Congress made a conscious decision to encourage investment in energy infrastructure through the MLP structure," he says.
It's hard to dispute that. In 1981, an oil subsidiary of Apache Corp. became the first publicly traded partnership. By the mid-1980s a handful of non-energy companies, including Burger King and the Boston Celtics, also began forming MLPs, leading to worries on Capitol Hill about a corporate rush to get around taxes. In 1987, Congress curtailed the break—but exempted oil and gas companies after industry lobbying. "The authors of the exception didn't envision how popular the tax break would become," says John Buckley, a tax professor at Georgetown University Law Center and former Democratic staffer who helped write it. They must have been aware of the exemption's popularity by 2008, when lobbyists for MLPs persuaded Congress to extend the no-tax status to partnerships that transport and store biofuels.
Now, Congress may actually expand it again. Senator Chris Coons, a Delaware Democrat, is pushing a bill to let clean-energy companies into the MLP club, an idea he's pitched to the fossil-fuel industry as a way to protect their original break. "Republican senators have been quite responsive," Coons says.
That riles oil and gas industry critics such Representative Keith Ellison, a Minnesota Democrat who sponsored a failed bill to repeal the tax break last year. "The people who say they want deficit reduction, how do they justify it?" he asks. "These industries are some of the most profitable in the country."
Edward Kleinbard, a former chief of staff for the Joint Committee on Taxation who now teaches law at University of Southern California, says Congress seems to think leveling the playing field means granting tax breaks to industries that complain of unfairness, when simply ending them for everyone would be a simpler fix—and wouldn't add to the debt. "Subsidies like this expand and expand," he says. "It's a perfect example of how we ended up in the mess we're in."
BOTTOM LINE -
The bottom line: A tax break for energy companies will cost the U.S. $1.5 billion from 2010 to 2015; Congress might broaden it this year.
Before it's here, it's on the Bloomberg Terminal.
LEARN MORE