Is Google Trying to Remake Wi-Fi?
by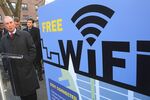 The Wall Street Journal's Digits blog is reporting that Google is exploring new wireless technologies, possibly to develop its own wireless networks around the country.
The search engine giant has filed an application with the Federal Communications Commission, asking for a license to tinker with "an experimental radio service," the blog post reports. Presumably this has more to do with wireless communication than with a radio station that specializes in the music of John Cage. The wireless standard Google is looking to play with is currently incompatible with Wi-Fi or 3G or 4G devices, so this is still little more than an experiment for now.
Google already provides broadband service to Kansas City (Mo.) residents, and has Wi-Fi networks in its hometown of Mountain View, Calif., and in the Chelsea neighborhood of Manhattan, where its New York office is located. The new service would perhaps be able to provide faster, more reliable connections than Wi-Fi.
This news dovetails quite nicely with an op-ed in today's New York Times, which calls for greater competition in the wireless and broadband markets. "Both the wireless and wired markets for high-speed Internet access have become heavily concentrated, and neither is subject to substantial competition nor oversight," the article asserts. Google may be welcomed—if not encouraged—to seek a greater role in a market typically dominated by cable and telephone companies.
Before it's here, it's on the Bloomberg Terminal.
LEARN MORE