How Tough Will the New SEC Head Be?
By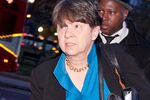 If President Obama gets his way, Mary Jo White will be the next chairman of the Securities and Exchange Commission. Her expected nomination comes at a crucial time for the agency as it implements vast reforms under Dodd-Frank and faces criticism for not taking more action against those responsible for the financial crisis.
White would be the first former prosecutor to be head of the SEC, which could be a strong signal that Obama wants a heightened focus on enforcement. Her record as U.S. attorney for the Southern District of New York for almost a decade includes plenty of hard-nosed prosecutions, taking on the mob, terrorists, and drug traffickers to name a few. Elie Mystal of the blog Above the Law says she used to work with White and recalls that the potential SEC chairman "tends to inspire competence—if not palpable fear—in the people who work for, with, or around her. … She's not a screamer, she's not mean or dismissive. She's just deadly serious and committed to getting things done." Eric Schneiderman, the New York attorney general, tweeted that he thought White was a good choice: "A tough, experienced prosecutor is exactly what we need."
But there's another side to White. After a decade as a prosecutor, she spun through the revolving door and landed as a litigator at the law firm Debevoise & Plimpton, where for the past decade she's defended executives charged with white-collar crimes. Her clients have included former Bank of America Chief Executive Officer Ken Lewis, former Morgan Stanley CEO John Mack, and Tommy Hilfiger, and a decade in private practice can certainly change a person's outlook. Also, as the Wall Street Journal points out, her husband also represents corporate clients in SEC-related matters, at the law firm Cravath, Swaine & Moore.
White could end up being a balanced regulator, similar to Richard Cordray, the director of the Consumer Financial Protection Bureau. He's been serving under a recess appointment, and the White House says it will nominate him for a permanent post. Cordray was an aggressive attorney general in Ohio, but at the CFPB he has led the agency to regulate wide swaths of consumer finance while still taking industry concerns into consideration. To be confirmed, both would need to win a battle of their own—getting enough votes from Congress.
Before it's here, it's on the Bloomberg Terminal.
LEARN MORE