business
Groupthink in Davos: The Financial Crisis Is Over
By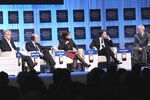 The hive mind of Davos has concluded that the financial crisis is done, finished. The new worry: a bubble in the credit markets.
There is no official declaration, or even a formal survey. But the chatter at the World Economic Forum in Davos, Switzerland, is about the end of the financial crisis that began in 2008 and dragged on through last summer's spike in Spanish and Italian government bond yields. "There's a crystallization of thought that the financial crisis is over," says Scott Minerd, managing partner and chief investment officer of Guggenheim Partners, a Santa Monica (Calif.) firm with about $160 billion under management.
"I was riding around in a van last night with two guys whose names you'd recognize," Minerd said. "They were comparing notes and hearing the same thing. The conclusion has sort of gone viral. It's an interesting social-networking phenomenon." It has real-world consequences, too. "When thought leaders leave an event like this, they take the message with them, and it affects the way they behave." That is, they'll buy.
In fact, the new worry at Davos this week is that people aren't worried enough. A heavily oversubscribed Spanish bond auction is the latest sign of what some Davosians see as a growing bubble in the credit markets.
Minerd, for one, thinks asset prices have room to rise. People who still worry about the financial crisis are too late, he says, and those who worry about a bubble are too early.
Before it's here, it's on the Bloomberg Terminal.
LEARN MORE