Facebook's Graph Search May Be Key to More Ad Sales
Zuckerberg's foray into social search isn't only a user play. It's an ad play
by and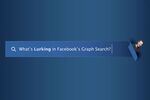 When Facebook Chief Executive Officer Mark Zuckerberg unveiled Graph Search on Jan. 15, he hailed his company's latest innovation as a great leap forward for search. Facebook members who want to know their friends' preferences before making decisions on restaurants, vacations, career choices, and maybe even life partners, can look for, say, "single friends in San Francisco who like sushi," and be rewarded with meaningful results.
It's a nice advance, but the real leap Facebook hopes to make is to overtake Google—and maybe LinkedIn and Match.com, too. Facebook has not yet detailed any advertising products that Graph Search will inevitably spawn down the road, but clearly Zuckerberg thinks he can offer his customers the grand prize of advertising: perfect microtargeting.
Facebook is expected to report $5.02 billion in sales for 2012, according to analyst estimates tracked by Bloomberg. Google's revenue sailed past $50 billion last year. At least some analysts say that Graph Search has the potential to close the gap by creating a virtuous feedback loop between advertisers and Facebook users. In social searches, businesses with the most "likes" and "check-ins" may shoot to the top of search results. The hope is that advertisers seeking better Graph Search results will purchase more ads on the social network in order to get them.
Michael Pachter, an analyst at Wedbush Securities in Los Angeles, predicts Graph Search will grow to about a quarter of Facebook's revenue, or $3 billion to $4 billion in 2015. "The way we did the math: a tiny slice of Google, a bigger slice of Yelp, a bigger slice of Groupon and LivingSocial. Graph Search gives you the potential to do all those things," says Pachter. He adds that Graph Search will keep people "using Facebook longer." That, in turn, will provide Facebook with "a tremendous amount of data that allows [Facebook] to deliver a lot more relevant ads."
Dan Levy, Facebook's director of small business, says the search tool could help more than 13 million plumbers, doctors, pizza parlors, and other small businesses on the social network get their pages discovered. The company eventually plans to offer mobile Graph Search, which would be a more robust version of the recently released "nearby" feature that recommends restaurants and landmarks close to a mobile user's location.
Whether those cool features can be translated into a predictable source of revenue—and ultimately profits—depends largely on whether Facebook can deliver the kind of results its engineers promise. Presumably the company could charge more per search ad if it can prove that its highly targeted results are more likely than Google's to convert seekers into buyers.
Technology is one concern. Changing behavior is another. "Facebook has trained its audience to live and breathe on the news feed," says Brian Yamada, an executive director at digital marketing agency VML, owned by ad giant WPP. That leads to a passive users, accustomed to content finding them. For Graph Search to work, the social network's billion-plus members will have to, you know, get active—albeit without leaving the walled garden Facebook provides. "In general, Web search is designed to take any open-ended query and return to you links that may have answers to the question that you might be trying to ask," Zuckerberg said at the launch. "Now, Graph Search is very different. Graph Search is designed to take a precise query and return to you the answer, not links to other places where you might get the answer."
Ultimately, Graph Search's success will be determined by whether Facebook members buy in. Its search results must "start to become relevant enough that users end up switching," says Hussein Fazal, CEO of AdParlor, which helps companies buy ads on Facebook. If they do, advertisers will follow, which poses another risk for Facebook: alienating users by having too many ads.
Before it's here, it's on the Bloomberg Terminal.
LEARN MORE