As Apple Shares Sink, Analysts Rush to Lower Forecasts
After a quarter with big sales but disappointing profits, forecasters race to cut estimates.
By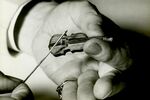 With shares closing down 12 percent on Thursday, at $450.50, Apple investors were reeling. And so—cue the tiny violin—were the research analysts whose job it is to forecast the whipsawing stock.