business
A Modern Scandal Rocks the World's Oldest Bank
By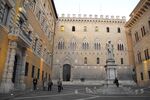 Founded in 1472 and headquartered in an ornate Tuscan palazzo, Banca Monte dei Paschi di Siena is the world's oldest lender. Now, though, it's been entangled in scandal by a quintessentially 21st-century practice: derivative trading.
Bloomberg News reported on Jan. 17 that Monte dei Paschi used a secret derivative contract with Deutsche Bank in 2008 to conceal a €367 million ($488 million) loss on prior swaps with the German bank. The transaction, which was not disclosed to the government or to the bank's shareholders, took place shortly before the bank started requesting billions in taxpayer bailouts.
Monte dei Paschi has acknowledged doing similar swaps with Nomura Holdings in 2009 and with an unidentified third bank. In each case, the bank appears to have replaced loss-making derivative contracts with even riskier ones, leading to still more losses and ultimately to more government aid. Losses from the transactions totaled about €720 million ($959 million), the newspaper Il Messaggero reported today, citing an interview with the bank's chief executive, Fabrizio Viola.
"Derivatives per se are not evil, but they need to be communicated," says Carlo Albert Carnevale-Maffe, a professor of business strategy at Bocconi University in Milan. "If you hide them, you are hiding relevant information from shareholders, regulators, and lenders, including the government, which has been a very crucial lender."
In a statement on Jan. 23, the Bank of Italy said the swaps had been "disclosed only recently, after hidden documents were found by new executives," who took over after the former chairman, Giuseppi Mussari, left the bank in April 2012. The swaps "are now being reviewed by the central bank's oversight division as well as judicial authorities," the statement said.
Monte dei Paschi shares have tumbled more than 23 percent on the disclosures, including a nearly 9 percent drop Thursday. Shareholders are demanding a full accounting. "The transparency must be full," the Associazione de Piccoli Azionisti Azione Banca Monte dei Paschi di Siena, an association of individual investors, said in a statement on Jan. 23. Mussari stepped down this week as head of the Italian Banking Association. He said in his letter of resignation that he had always acted lawfully. He has not responded to requests by Bloomberg News for interviews.
Monte dei Paschi's financial woes stem from Mussari's decision in 2007 to spend €9 billion euros—more than the Siena bank's market value at the time—to acquire Banca Antonveneta in Padua. Then the financial crisis hit in 2008, sending Monte dei Paschi's profit and share price tumbling. Adding to the pressure, the bank faced a €367 million loss on an earlier Deutsche Bank derivatives deal. Instead of booking the loss, it replaced the swap with a riskier one.
Carnevale-Maffe says Monte dei Paschi, like most Italian banks, in the past had generally avoided derivatives and other exotic financial products. "They weren't masters of the universe," he says. "They just had to cover the fact that they were unable to manage their mergers and acquisitions."
As Monte dei Paschi sank into red ink, including a €1.78 billion loss in 2012, it turned to the government for aid. A request for an additional €500 million, now under consideration, would bring the total bailout to €3.9 billion.
Exactly who knew about the secret swaps isn't clear. They didn't appear in Monte dei Paschi's financial reports, and KPMG, the bank's auditor at the time of the Nomura deal, says it never received documentation and didn't approve that transaction. Nomura, though, said its trade with the bank "was fully reviewed and approved prior to execution" by KPMG and by then-Chairman Mussari.
The bank's current management has announced it is reviewing the hidden swaps and will restate its profit if necessary. Some worry that more bad news could be in store, though. The bank's announcement "does not clarify if there are other deals that may have allowed Monte dei Paschi to delay recognition of losses and/or lower artificially their risk-weighted assets," Alberto Cordara, an analyst with Bank of America Merrill Lynch in London, wrote in a note to clients today.
With reporting by Sonia Sirletti and Elisa Martinuzzi of Bloomberg News in Milan
Before it's here, it's on the Bloomberg Terminal.
LEARN MORE