Will the Middle Class Want Micro-Apartments?
by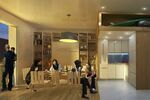 Soon, Manhattan will not have enough housing to accommodate the growing number of one- and two-person households. Developers have been building up, adding high-rises, to make more living space on the island, but the city has another proposal: allow developers to build smaller. On Jan. 22, New York City Mayor Michael Bloomberg, founder of Bloomberg Businessweek's parent company, announced the winning design for the adAPT NYC competition seeking proposals for a new micro-apartment development.
As part of the pilot program, the winning team comprised of Monadnock Development, Actors Fund Housing Development Corp., and nArchitects will build 55 micro-units between 250 and 370 square feet (including a kitchen and bathroom) at 335 E. 27th St. in Manhattan. The city waived zoning regulations at the site, allowing the new apartments to be smaller than 400 square feet, the minimum size since 1987.
While the compact size might suggest that the units are designed for low-income tenants (like an updated version of the city's old single room occupancy units), this is not entirely the case.
Twenty-two of the 55 units will be "affordable" for low- and middle-income households. That is, they will be earmarked for those with an annual income of up to $48,100, and for those earning up to $93,310. Monthly rent on the low-income apartments will initially be set at $939, while the middle-income units will go for $1,873. "The developer purchased the site from the city at a reduced cost so that they can provide the affordable units," city spokesperson Julie Wood said in an e-mail.
The remaining 33 apartments will be market rate (i.e., higher-priced). The average monthly rent for a non-doorman studio in December was $2,282, according to the Manhattan Rental Market Report, which is put out by real estate brokerage MNS—though existing units are at least 400 square feet.
Construction on the project, which is not city-financed, will begin at the end of the year and residents are expected to move in by September 2015.
Affordability is generally understood as spending less than 30 percent of income on housing costs, though about 45 percent of the city's renters spend more than that, according to U.S. Census data. (However, other expenses tend to be lower: For example, most households do not own a car.) Based on Manhattan's per capita income of $61,290, rent above $1,500 might seem pricey to many, especially for such a tiny space.
Sarah Watson, a senior policy analyst at Citizens Housing and Planning Council, says many regular two- and three-bedroom apartments are overcrowded. In other words, people are already living with little space; it's just shared now. These micro-apartments are merely another housing option, she says, and they offer more privacy. (Though a unit can accommodate up to two people.)
Similar projects are under way in other crowded cities. In November, the minimum size for apartments in San Francisco was reduced to 220 square feet from 290 square feet. Up to 375 micro-units will be built at first and reviewed by the city's Planning Commission before more projects are green-lit. In Boston, about 300 300-square-foot units are being developed in the Innovation District on the South Boston waterfront.
All those up-and-comers who dream of living in a shoe box they can call their own may finally get their wish.
Before it's here, it's on the Bloomberg Terminal.
LEARN MORE