M&A News: Aldar Properties, OCI, Allergan, AT&T, Coca-Cola Femsa
Noteworthy expenditures of the week
by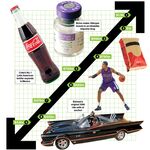 1. Abu Dhabi's Aldar Properties will buy Sorouh Real Estate in a $1.5 billion deal to create the Middle East's third-biggest publicly traded property company by assets.
2. In one of Egypt's largest foreign currency inflows since the 2011 uprising, a group of U.S. investors led by Bill Gates is committing $1 billion to buy a stake in Egyptian construction and fertilizer company OCI.
3. Allergan, maker of the wrinkle filler Botox, will pay $958 million for Map Pharmaceuticals to gain an experimental inhalable migraine treatment.
4. U.S. wireless carrier AT&T will purchase spectrum and subscribers from Atlantic Tele-Network for $780 million to bolster its network and add 585,000 new customers.
5. Coca-Cola Femsa, Latin America's No. 1 bottler of the soft drink, will pay $700 million for family-owned bottler Grupo Yoli to expand in southern Mexico.
6. The Maloof family agreed to sell the Sacramento Kings to investors led by hedge fund manager Chris Hansen and Microsoft CEO Steve Ballmer for $525 million, an NBA record. Pending league approval, the Kings will be relocated to Seattle, which has been without an NBA team since 2008, when the SuperSonics moved to Oklahoma City and became the Thunder.
7. Cisco Systems, the world's No. 1 maker of networking equipment, is buying Israel's Intucell for about $475 million, gaining technology that helps wireless carriers manage their networks.
8. The world's biggest publicly traded copper producer, Freeport-McMoRan Copper & Gold, and Lundin Mining will purchase OM Group's cobalt unit for as much as $435 million.
9. The original Batmobile, a 19-foot-long 1955 Lincoln Futura one-off concept car that was refashioned for the Batman TV series in 1966, fetched $4.6 million at auction.
Before it's here, it's on the Bloomberg Terminal.
LEARN MORE