Groupon Boycott: Reacting to Its Gun-Related Deals Suspension
by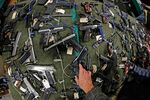 A growing number of small businesses are souring on daily deal sites such as Groupon for failing to generate repeat business, as we reported in this story a few months ago. Add to the soured affair one Austin (Tex.) gun store.
Central Texas Gun Works owner Michael Cargill isn't complaining about performance; he's unhappy about Groupon's recent suspension of gun-related offers. Cargill told Bloomberg News he's asking customers and other business owners to boycott the deals site. He said his Austin-based store lost potential customers after Groupon ended its deal for half off a $140 handgun safety class earlier than planned.
Groupon is "targeting law-abiding citizens who are taking time out of their busy schedules to take a gun safety course, learn conflict resolution and all the laws that surround them carrying that firearm," said Cargill.
"The [gun-related offers] category is under review following recent consumer and merchant feedback," Julie Mossler, a spokeswoman for Chicago-based Groupon, told Bloomberg News by e-mail, without elaboration.
Before it's here, it's on the Bloomberg Terminal.
LEARN MORE