Europe Groans at Cameron's Talk of an EU Exit
by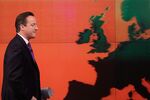 Viewed from across the English Channel, Prime Minister David Cameron's call Wednesday for a referendum on British membership in the European Union was either a pretty bad idea—or a downright dangerous one.
EU leaders accused Cameron of pandering to British euroskeptics and warned that uncertainty about London's commitment would hurt Britain as well as other bloc members. He "is playing a dangerous game for tactical, domestic reasons," Martin Schulz, a German Social Democrat who is president of the European Parliament, told Bloomberg News.
In a speech at Bloomberg headquarters in London, Cameron promised to call a referendum by 2017 if his Conservative Party wins reelection in 2015. The prime minister faces pressure within his own ranks for Britain to negotiate more-flexible EU ties or leave the bloc altogether.
While Cameron says he wants to remain in the union, critics warned that he risks triggering a wave of anti-EU sentiment that will overwhelm him. Cameron "resembles the sorcerer's apprentice who cannot tame the forces that he has conjured," Schulz said.
Others rebuked Britain for trying to set its own ground rules for EU membership. "Imagine the EU was a football club," French Foreign Minister Laurent Fabius said in an interview on France Info radio. "Once you're joined up and you're in this club, you can't then say you want to play rugby." German Foreign Minister Guido Westerwelle told reporters in Berlin that British "cherry picking is not an option." The EU needs "more, not less, integration," he said.
German Chancellor Angela Merkel sounded a more conciliatory tone. "Every member state of the EU has its own interest," she told reporters in Berlin. "In this context, we are certainly prepared to talk about British interests, but [we] have to keep in mind that other countries have their own wishes, and we always have to come to a fair compromise in the end."
The U.S. also signaled concern over a possible British exit. "A strong Britain in a strong EU is what I think is best for Britain, Europe, and the United States," Undersecretary of State Robert Hormats said in a Bloomberg News interview Wednesday at the World Economic Forum in Davos.
British business officials attending the Davos forum said that even if Britain remains in the EU, leaving the question unresolved for four years could cause damage to the country's economy. "Uncertainty over this relationship with Europe risks making the U.K. less attractive as an international center across many industries," said Mark Boleat, policy chairman at the City of London Corporation, the financial district's local government.
Indeed, there's plenty at risk. About half of Britain's exports go to EU neighbors, and London serves as the financial hub of the region's $17 trillion economy. Economists at Citigroup estimate that EU trade accounts for 15 percent of Britain's gross domestic product, while trade with Britain amounts to only 2.5 percent of the EU's total GDP.
"The British economy is highly interdependent with the rest of Europe," John Nelson, chairman of the Lloyd's of London insurance group, told Bloomberg News in Davos. "My guess and hope is that common sense will break out and we'll stay" in the EU.
Before it's here, it's on the Bloomberg Terminal.
LEARN MORE