Furniture or Booze? How Startups Spend Their Money
By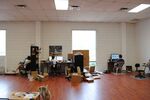 Alex Theodore, co-founder of Fracture, a photo-printing startup based in Gainesville, Fla., once dreamed of furnishing his new headquarters with the kind of chic décor that fills gleaming Silicon Valley offices such as those of Google and Facebook. After glancing at his books, he went dumpster diving. "I don't like spending money, and if it was between [research and development] and having nice, fancy desks, it was R&D," says Theodore. He opted to prop his desk on cinder blocks. One colleague began using a plastic lawn chair.
Theodore has since taken out the trash. Fracture was one of five winners in a small business office-makeover competition held last year by the furniture maker Turnstone, a Steelcase brand, which provided $25,000 worth of new furnishings to winners out of a field of more than 200 applications. (Turnstone's next competition began Jan. 22.)
While many submissions might appear in a rogue's gallery of unsightly interior designs, Turnstone executives were impressed with the level of ingenuity they saw regarding makeshift furniture. "You see adaptations," says Kevin Kuske, Turnstone's general manager. "When someone takes cinder blocks and puts a door on top of it, that means they couldn't find what they wanted easily and for the price they wanted. Because entrepreneurs are prototypers, they'll just make it. We can get product ideas from that."
We asked Kuske for more observations of startup offices:
• Startups seem reluctant to buy furniture. One company had only one chair, says Kuske. Whoever sat in it would try not to get up for fear of losing the seat and having to join colleagues sitting on the floor, lying on mats, and perching on window sills.
• What little money startups had seemed to be going toward booze and junk food. Several of the small businesses invested in snack bars or full kitchens in which people could prepare weekly meals for the office. There were also lots of wine and kegerators.
• Startup workers crave privacy. Kuske says a number of companies had purchased phone booths or created them out of dry wall. He also saw multiple screens, or large monitors as big as 40 inches, acting as partitions. Other companies implemented "Do not disturb" codes. (One was based on whether you had one, two, or no earbuds installed, for instance.)
• Startup workers have really fancy bicycles. While the offices might not provide chairs for every worker, many provided parking spaces for high-end bikes, some costing as much as $3,000, which were too nice to lock outside.
• About half the entrants had pets roaming freely. Usually it was a worker's dog, cat, parrot, or hamster. Some even built homes for the animals—including habitrails—in the office.
Before it's here, it's on the Bloomberg Terminal.
LEARN MORE