Four Things to Watch for at Davos This Year
by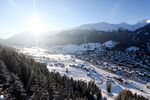 Here's what to look out for at this year's edition of the World Economic Forum, a gathering of business, government, and nonprofit biggies that's been a fixture in the snowy Swiss Alps since 1971:
Europe, triumphant? We'll be listening closely to the tone of remarks by German Chancellor Angela Merkel, Italian Prime Minister Mario Monti, European Central Bank President Mario Draghi, and other European leaders. Will they take a moment to brag about the progress made since Davos 2012, when the alpine air was filled with talk of euro breakup? Or will they focus straightaway on what remains to be done: restoring economic growth and coping with unsupportable debt loads? Excessive self-back-patting could be a sign that Europe underestimates the continuing peril.
Bankers on the prowl. Bankers are inveterate dealmakers, and Davos is prime hunting ground. JPMorgan Chase Chief Executive Officer Jamie Dimon is back this year, although the bank's multibillion-dollar trading loss may take some of the customary swagger out of his step. Goldman Sachs CEO Lloyd Blankfein is coming, too, along with the heads or board members of Bank of America, Blackstone Group, Banco Santander, and so on. Journalists will be on the lookout for interesting pairings, but anything cooked up in Davos won't become public for months.
IGWELs. A Davos-only term, it stands for "informal gathering of world economic leaders." There are IGWELs for a variety of topics and they're secret, by-invitation-only events. Journalists who find out about them gather outside the doors hoping to get an attendee or two to spill some news. The biggest headlines from Davos this year might just come out of one of these events.
The outside world. Forum-goers are acutely aware that Davos is not the center of the world, even when they're present. They take their cues from what's happening back home. It will be fascinating to see what Davos makes of Chinese-Japanese tension in the South China Sea; civil war in Syria; a reset for President Barack Obama in the U.S.; and a fresh outbreak of global currency wars.
There's much more, of course. Days of earnest sessions on the big issues of the day and nights of well-lubricated parties up and down the Promenade, the main drag of Davos. Billionaires and heads of state galore. All that and piles of snow. It should be an interesting week.
Before it's here, it's on the Bloomberg Terminal.
LEARN MORE