Challenges Await a SuperSonics Reboot in Seattle
By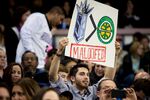 Next season, the Sacramento Kings could very well be rechristened the Seattle SuperSonics. The Maloof family, owners of the Kings, struck a deal last weekend to offload the franchise for $525 million to a group of investors led by Seattle-based hedge fund manager Chris Hansen and Microsoft Chief Executive Officer Steve Ballmer. The sale, which is subject to NBA approval and a possible counteroffer, represents a true rarity in professional sports: the prodigal franchise, which includes the NHL's Winnipeg Jets (who left for Phoenix after the 1995 season, but returned after local investors acquired the struggling Atlanta Thrashers in 2011) and the NFL's Oakland Raiders (who shifted nearly 400 miles to Los Angeles in 1982, but returned to Oakland in 1995).
The Sonics left for Oklahoma City in 2008, and while die-hards bleeding green-and-gold may rejoice at the opportunity to dust off their old Xavier McDaniel or Detlef Schrempf jersey, the new team's executives have their work cut out for them.
"Their biggest problems are: Where will they play, and when will they play there?" says Carmen Policy, a longtime pro football executive who became the first president and CEO of the expansion Cleveland Browns in 1999, after the original Cleveland Browns left for Baltimore in 1996. "Moving into a market where you haven't been—even if you have history there—can be very difficult if you're playing temporarily in a facility that's not up to, shall we say, league standards."
He's talking about KeyArena, the Sonics' loathed multipurpose sportsplex that played a key role in the team's departure five years ago. (By NBA standards, the arena—which was erected in the 1960s and underwent extensive renovations in 1994 and '95—was considered cramped and obsolete.) According to reports, the new SuperSonics would have to play at least two seasons in the old KeyArena before moving to a new facility in downtown Seattle, still in the planning stages. Policy says speeding up that process should be the top priority for the team's new executives. "And [the new arena's] got to become more than just a home and profit center for the basketball team," he says. "It's got to become a community gym."
While the team gets the facility situation squared away, Policy advises launching a charm offensive on the fan base by deploying players out into the public. "You want them out there working the community and creating goodwill," he says.
Overall, rebooting a franchise isn't easy. "You're moving into a market where the Seahawks are on fire and football is really reigning," says Policy. "You've got college football up there, which has got people's attention. So you've got to refertilize the basketball market. You've got to use the right nutritional approaches to getting the fans back."
Before it's here, it's on the Bloomberg Terminal.
LEARN MORE