Only Their Timing (the New-Not-Normal Davos)
by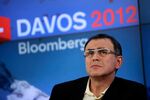 The pessimists may be changing only their timing rather than their tune. While Roubini now attaches a 30 percent chance to Greece leaving in 2013, the probability increases to more than 50 percent in three to five years. Having once identified a 90 percent likelihood of a Greek exit by 2014, Citigroup economists maintain it will happen within two years as their base case.
—Simon Kennedy, "Davos Doom Loses to Merkel-Draghi as Euro Defies Roubini," Bloomberg News, Jan. 21, 2013
Simon Kennedy launches our Davos coverage with a constructive 12-month look back. Surprising to no one, most got the call wrong. Few got it right; except few may be several or possibly the single solitary soul who did not helicopter in and out in 2012.
The pessimists regroup as Europe shows sure signs of life. Well, maybe. Let's rephrase to make the financial elite feel better. They whistle a happy tune. There is a step in their Bogner-laden walk. Others await a real-economy recovery.
Things are … better.
That removes us, in subtle shades, away from a grim New Normal. The good Haves descending on Davos are not normal. (The U.S. contingent enjoys its 0.9 percent Medical tax surcharge, as one example.)
They, and these World Economic Forum meetings, are The New-Not-Normal Davos. They will bathe in newfound optimism.
The pessimists? They adapt, adjust, and change only their timing. Discuss
Before it's here, it's on the Bloomberg Terminal.
LEARN MORE