Barack Obama's Inauguration Day Playlist
By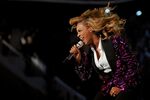 Some inaugural traditions, like the parade that heads down Pennsylvania Avenue and ends at the White House, date all the way back to the swearing-in of President George Washington, who was feted in New York City in 1789.
The latest tradition may be the Inauguration playlist. This 22-track collection, put together by the Presidential Inaugural Committee, can be downloaded for free on Spotify's website and features tunes that are supposedly favorites of the president—Spotify says the playlist is "By Barack Obama." So what can we learn about a president from the songs he listens to?
Obama gets his jam rolling on an ecstatic note, with Stevie Wonder reminding supporters of the good old days four years ago on "Signed, Sealed, Delivered (I'm Yours)," the theme song of Obama's 2008 victory party.
Jennifer Hudson lets us know the president is "Feeling Good." Fun tells us to "Carry On." Alicia Keys reminds America it's a "New Day." And the cast of Glee is on the "Edge of Glory." OK, we get it.
But it's not all partying on the president's playlist. There's work to be done in Washington, and Smokey Robinson is on hand to inspire Democrats—or warn Republicans—to "Get Ready." Every second-term president has at least one eye on his legacy. In "I Was Here," one of the lesser-known songs on the list, Beyoncé sings, "I wanna leave my footprints on the sands of time." ("Bootylicious" didn't make the cut.)
The first lady is a fan of Beyoncé, who campaigned for Obama and helped Michelle make an anti-obesity workout video. Beyoncé will also sing the national anthem at an inaugural ball tonight. She's one of many artists on the playlist—including Usher, Kelly Clarkson, Stevie Wonder, James Taylor, and the cast of Glee—who'll perform for Obama. Being president has its perks.
Before it's here, it's on the Bloomberg Terminal.
LEARN MORE