Why Obama Didn't Go After the Video-Game Industry
By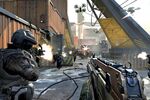 When President Obama revealed his proposal to curb gun violence on Wednesday, one industry largely went overlooked: video-game makers. Obama announced an executive order to end an industry-backed freeze on federal research into the linkage between violent behavior and violent content in games, and he recommended that Congress authorize $10 million for the U.S. Centers for Disease Control to conduct the research. But restrictions on the sale of violent games to minors, or scrutiny of the content of games, weren't part of the package.
Earlier, it looked as if the administration might make more concrete demands of game makers. At the memorable press conference that the National Rifle Association held after the Newtown shooting, Wayne LaPierre pointed a finger at game developers. "There exists in this country, sadly, a callous, corrupt and corrupting shadow industry that sells and sows violence against its own people," he said. "And then they all have the nerve to call it entertainment."
Vice President Joe Biden, tasked with coming up with recommendations for the president, appeared to be listening to the NRA's call. He asked executives from Electronic Arts, ZeniMax Media, Take-Two Interactive, Epic Games, and E-Line Media to the White House for a chat. But according to Chris Ferguson, a video-game expert who teaches psychology at Texas A&M and attended the meeting, Biden told the gaming executives he didn't intend to call on them to change their business practices.
That may be because there isn't much the White House can do to force them to change. The Supreme Court has already settled the question of whether the government can regulate game sales. In a 2011 decision, the court ruled on free speech grounds that the State of California couldn't prohibit the sale of violent games to minors. The Court also cited a lack of evidence that playing games leads to violent behavior.
The game makers were wary when they walked in to meet Biden, says Ferguson. "They were in a defensive posture. They wanted to emphasize [the Supreme Court ruling] over and over."  Cheryl Olson, a public health expert who attended the meeting, says the executives were concerned the president would make an example of them. The editor of Gamasutra, the top website for game makers, warned fellow developers that even going to the meeting would be a mistake. As it turned out, they had nothing to worry about.
Before it's here, it's on the Bloomberg Terminal.
LEARN MORE