Rory McIlroy Accepts Nike's Money, Rejects Its Putter
by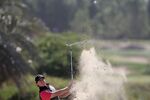 On Friday Golf Digest shared a photograph on Twitter of golfer Rory McIlroy at the European Tour's HSBC Championship in Abu Dhabi. It shows McIlroy from the ground up to just below the knees. He's wearing a bright new pair of Nike golf cleats, which is no surprise. Four days earlier, Nike announced that it had signed McIlroy to a sponsorship deal, reported to be for five years and probably in the hundreds of millions of dollars. To the left, however, is McIlroy's putter and, on its face, the words "Scotty Cameron." This was news. Scotty Cameron is an Acushnet-owned brand named for the game's "premier putter maker."
In his first tournament since joining the Swoosh for "clubs, balls, footwear, glove, apparel, headwear and accessories," McIlroy jilted his new partner in favor of an old love. To compound the injury, both McIlroy and Nike's other big-budget star, Tiger Woods, missed the cut at the tournament.
"We understand it takes time," Nike says in an e-mailed statement. "It's a process and we are confident he'll change when he's ready." Nike should know. Tiger Woods needed years to give up some of his Titleist clubs. Nike is also not alone. Racquet maker Prince endured speculation about what Maria Sharapova was really swinging before letting her walk away. And hockey players have been known to play with sticks stenciled to look like sponsored gear.
The problem pops up whenever a piece of equipment is intimately involved with the game. A racquet, stick, or putter is an extension of the athlete. It has to feel and perform just so. (McIlroy told reporters his choice had to do with the speed of the greens.) Endorsement deals, according to Brian R. Socolow, an attorney at Loeb & Loeb who specializes in contract and sports law, usually take this into account. "It won't be definitive," says Socolow, "It will allow the athlete to have some leeway." After a "good faith attempt" to use the new gear, the athlete usually gets extra time to make the transition. It's a small headache for Nike, who, Socolow notes, probably anticipated the problem and factored it into the price of the deal. And for Scotty Cameron, it's an endorsement money can't buy.
Before it's here, it's on the Bloomberg Terminal.
LEARN MORE