French Troops in Mali Show Africa's Importance
by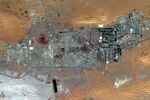 When French President François Hollande dispatched troops to Mali this month, some wondered why he would put his countrymen's lives at risk in a remote nation of 16 million whose gross domestic product is less than half that of Vermont.
Part of the answer has become clear this week as a deadly hostage crisis unfolds at a natural gas complex in neighboring Algeria. Although details are still unclear, some of the plant's workers—including Americans, British, French, Irish, and Japanese—were killed after being taken hostage by terrorists on Jan. 16. Algerian officials said Friday that 60 hostages remain missing.
In a narrow sense, the incident is simply retaliation for France's intervention in Mali. The group that claimed responsibility for the hostage-taking demanded that France end its attacks on Islamist rebels who have taken control of northern Mali.
But the diverse nationalities of the hostages and the multinational ownership of the plant—run by Britain's BP, Norway's Statoil, and an Algerian partner—underscore the broad economic and strategic interests at stake in the region. Algeria is a major gas supplier to Europe, with U.S. companies Anadarko Petroleum and ConocoPhillips holding major assets there. ExxonMobil and Italian oil group Eni are developing Algerian shale gas.
Another of Mali's neighbors, Niger, is the global No. 4 uranium producer. Guinea and Mauritania have iron, while Burkina Faso is a major cotton supplier.
Those interests, and more, would be put at risk if Islamic fundamentalists in northern Mali were able to expand their control and establish a Taliban-style state. "They could contaminate the adjoining countries," says Philippe Hugon, an Africa expert at the Institute for International and Strategic Relations in Paris, who warns that Mali could become a global exporter of terror, akin to Afghanistan under the Taliban. "The borders are enormous and porous."
It's already clear that some North African rebel groups are mobile and well-equipped. The Algerian hostage-takers, whose leader trained with al-Qaeda in Afghanistan, were able to overrun heavy security at the isolated desert complex near the Libyan border. "It appears to have been a large, well-coordinated, and heavily armed assault," British Prime Minister David Cameron told the House of Commons on Friday.
The rebels in northern Mali regrouped quickly after initial French air attacks and have dug in for what French Defense Minister Jean-Yves Le Drian says will be a "long" campaign against a tough adversary.
France already has experience with al-Qaeda in the region. In Niger, four employees of French nuclear group Areva and a subcontractor have been held hostage for more than two years. Al-Qaeda has claimed responsibility.
The end of Muammar Qaddafi's Libyan regime has spurred terrorist activity in North Africa, analysts say. Qaddafi's fall "triggered the sudden return to Mali of the thousands of Tuareg fighters that Libya had recruited since the 1990s," Paul Melly, an associate fellow in the Africa program at Chatham House, a policy research institute in London, wrote in a December report. "The disintegration of the dictator's security forces flooded the Sahara with weaponry, easily affordable by al-Qaeda and its allies who were flush with income from drug trading and hostage ransoms."
As the risks become clearer, Western governments are likely to be drawn deeper into the Mali conflict. So far, France is the only non-African country with troops on the ground, but European governments are providing logistical support and training for the Malian military. Defense Secretary Leon Panetta has said the U.S. could provide logistical and air support. "There won't be American troops in Mali," French analyst Hugon says, "but at the European level, that could change."
Before it's here, it's on the Bloomberg Terminal.
LEARN MORE