China's Economy Is on the Mend, but Concerns Remain
by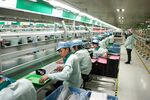 In a sign that a recovery is picking up speed, China's economy grew 7.9 percent in the last quarter of 2012, the first acceleration in two years, and faster than the 7.8 percent rise predicted in a survey of economists. The expansion was up significantly from the previous quarter's 7.4 percent, China's National Bureau of Statistics announced on Friday.
That put full-year growth at 7.8 percent, the slowest since 1999, but well above the official target of 7.5 percent, set by outgoing premier Wen Jiabao in March 2012.
"China enters 2013 on a pretty favorable growth trajectory," says Louis Kuijs, chief China economist at Royal Bank of Scotland in Hong Kong, who has now raised his estimate for this year's growth from 8 percent to 8.4 percent.
The positive GDP performance was matched by a host of other relatively rosy economic indicators. Industrial production, for example, was up 10.3 percent in December from a year earlier, and retail sales grew 15.2 percent over the same period, both beating predictions by economists.
Crucially, corporate profits are also showing signs of improvement; that is particularly good news following an earlier worrisome trend of rising company debt, squeezed margins, and industrial gluts, including in steel, coal, aluminum, and construction machinery equipment.
"Industrial profits are recovering strongly on the recent economic upturn. We expect a quick rebound in profit growth and margins for the industrial sector," wrote Lai Shen and Stephen Green, China economists at Standard Chartered, in a Jan. 17 note. The "destocking process is near an end; restocking demand will become a positive in early 2013."
The new question: How sustained will this recovery be? There are reasons to worry: Local debt loads, including through growing unregulated nonbank financing, aggravated by China's years of reliance on investment-led growth, are rising. There is also the possibility that a recent upturn in the real estate market may not last.
"China is in a cyclical recovery and we can see that the recovery will continue into the first and second quarters, but what happens after that is quite uncertain," Yao Wei, China economist with Societe Generale, told Bloomberg News before the GDP announcement.
That means China's next premier Li Keqiang, set to take charge of the economy at a National Party Congress in March, along with new party secretary Xi Jinping, who becomes president, will have their work cut out for them. Pro-growth policies like further interest rate cuts, which were trimmed twice in the middle of 2012, or more bank credit-loosening look increasingly constrained following a recent surge in prices. "Policymakers are becoming concerned about an uptick in inflation," says RBS's Kuijs.
Before it's here, it's on the Bloomberg Terminal.
LEARN MORE