Why the Case 'Angry Fan v. Spurs' Will Be Dismissed
by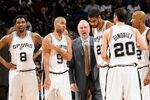 In November, lawyer Larry McGuiness paid a "premium" to attend a Miami Heat vs. San Antonio Spurs game but arrived at Miami's American Airlines Arena to discover that nearly all of the Spurs' marquee players—Tim Duncan, Manu Ginobili, Tony Parker, and Danny Green—had already been sent back to Texas. For the Spurs, this was the tail end of a grueling, six-day road trip. NBA commissioner David Stern fined the team $250,000 for violating a policy about giving players rest against the "interests of the NBA." Stern was unhappy about the early-season timing of the move and the fact that the club hadn't notified the league, the Heat, or the press about its decision "in a timely way." McGuinness wasn't satisfied. This week he filed a class action on behalf of fans against the Spurs, citing "economic damages" and accusing Coach Gregg Popovich of acting "intentionally and surreptitiously."
"Instances like these are odd but not actually that uncommon," says Gabe Feldman, associate professor of law and director of the Sports Law Program at Tulane University. In 2007, a New York Jets fan filed a $185 million class action against the New England Patriots and head coach Bill Belichick, accusing them of defrauding fans (amid the Spygate scandal, when Patriots coaches were busted filming opponents' sideline signals). That case was dismissed. In 2005, 14 of the 20 drivers about to compete in the U.S. Grand Prix at the Indianapolis Motor Speedway veered off track before the race began and wouldn't return, citing concerns about tire safety. Furious fans brought a class action against Formula One Management, the Fédération Internationale de l'Automobile (F.I.A), the Michelin tire company, and the Indianapolis Motor Speedway. It was also dismissed.
"The law is fairly settled that it gives you license to enter the stadium, arena, or racetrack, but a ticket doesn't guarantee that you'll see specific players or a particular quality of play or a 'good game,'" says Feldman. "If you allow a fan to sue because he wasn't happy with the quality of that particular game, you open the floodgates."
It only complicates matters that many people question Stern's actions. "There's an argument that Stern overstepped his authority, and there's an open question about whether the Spurs even did anything wrong. How do you distinguish between an excused and legitimate absence vs. a more nefarious one? How do you distinguish between resting the players for most of the game and for not dressing them at all?" says Feldman. One can expect McGuinness's lawsuit to be thrown out with the rest of them.
Before it's here, it's on the Bloomberg Terminal.
LEARN MORE