Tax Laws Leave Small Government Contractors in Limbo
By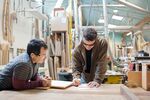 Love it or hate it, the legislation passed to avoid the "fiscal cliff" brought a measure of certainty to most of America's small business owners. But there was neither relief nor resignation for Velma Searcy. Her 12-employee company, Aerowire Technical Services, builds electrical components for military and commercial aircraft and depends on government contracts for about 65 percent of its revenue.
"I have a major subcontract that would allow me to grow quite a bit and probably double my crew," says Searcy, who worked in the aerospace industry for 30 years before starting Aerowire in January 2011. "But I'm kind of in limbo right now because they can't release any funds." All the New Year's Day deal did was "prolong the agony," for her company, which is based outside Los Angeles. "There's a big question mark over whether we'll be able to survive."
That's because the tax legislation delayed, until March 1, planned across-the-board government spending cuts (known as sequestration) after Congress could not reach a comprehensive deal on federal deficit reduction. Unless such a deal is reached in the next six weeks, the automatic cuts will total $1.2 trillion over 10 years. The initial $110 billion in cuts would hit the U.S. Department of Defense particularly hard, slashing about 11 percent of its budget, most likely in areas involving research and development, equipment, and facilities.
Small contractors are particularly vulnerable because they typically have fewer active contracts than larger companies, so if one or two drop out, a larger portion of their revenue disappears. Also, many tend to specialize in particular military applications that have worked well for them, and they've devoted less time to developing commercial applications they could sell to the private market.
"If we somehow get by this fiscal crisis to return to some sense of normalcy, we'll probably see larger businesses going after smaller projects," says Mark Amtower, a contracting consultant at Amtower & Co. in Highland, Md., who predicts government spending will be flat at best in the near future, regardless of whether the automatic cuts kick in. "And we'll see small businesses going after work that is more local to them, at the state and local level," he says.
San Diego's Sentek Global, which provides engineering and information security services primarily for the U.S. Navy, is already feeling the effects. "Just in the last week we've had a number of letters and e-mails from the Navy basically putting everything on hold. This is the first time I've seen that in the 10 years I've had this business," says Sentek's chief executive, Eric Basu.
Earlier this month, he says, one of his prime contractors told him that they didn't "think that money's ever going to come through" for work that four of his employees had done for the past two months on a command-and-control system for naval ships. "That's an $80,000 hit for us and very annoying," Basu says. It won't sink his company, which has 15 active contracts and brought in $27 million in 2012, but it would pay an annual salary for one of his engineers. "Our margins run 5 percent to 6 percent for this type of work, so it's a significant loss," he says.
With the wars in Iraq and Afghanistan coming to a close, Basu recognizes that military spending is bound to decrease in the next few years. He says he's not opposed to that, but he'd like to see bureaucratic waste and duplication trimmed, rather than wholesale cuts in defense programs. "There are companies that will shut down, no question at all, and it will affect unemployment in the country" if the sequestration occurs, he says.
Searcy says her employees are asking whether they should be looking for new employment. She doesn't know what to tell them: "There's so much talent out here, but all these people with experience may have to go away, maybe into different fields. People my age or older, who have nothing but aerospace backgrounds, it could be hard to get new jobs."
Lourdes Martin-Rosa, a government contracting adviser at American Express OPEN, is optimistic about small contractors' future. "Regardless of sequestration, the federal government has to function. And it's the largest purchaser of goods and services in the world," she says. She's especially pleased that a dollar limit on government contracts that are supposed to be set aside for women-owned small businesses was lifted in legislation signed by President Obama this month.
Contracts that applied to the Women-Owned Small Business set-aside program had been capped at $4 million for goods and services and $6.5 million for manufacturing, a significant barrier to women entrepreneurs seeking to do government contracting, Martin-Rosa says. Women's groups had been fighting for the set-asides, and then for removal of those caps, for a dozen years, but to no avail. In a final action before her retirement, however, Senator Olympia Snowe (R-Me.) and her colleague Senator Mary Landrieu (D-La.) pushed through an amendment lifting the cap.
Women-owned businesses have not yet reaped significant dollars from the set-asides, but the future is promising, Martin-Rosa says. "Agencies are going to be performing research, looking for viable women-owned businesses out there capable of doing $20 million to $50 million contracts."
Before it's here, it's on the Bloomberg Terminal.
LEARN MORE