Intel's CEO Heading Out With a Whimper
By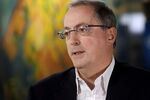 On Thursday afternoon, Intel delivered a batch of fourth-quarter financial results that were to be expected. Its sales fell to $13.5 billion, from $13.9 billion, as—guess what?—people bought fewer PCs than during the same period last year. Take 2012 as a whole, and Intel posted revenue of $53.3 billion, down from $54 billion.
The big takeaway here is that Intel produces one hell of a whimper. The chip maker's sales have fallen, as have its net income and margins. But the company still sells an incredible amount of silicon and chalked up $18.9 billion in cash from operations last year. Many companies would kill to have Intel's problems.
It now looks as if Chief Executive Officer Paul Otellini's career will end as the company continues on its current trajectory. Intel has forecast that sales in the current quarter will likely come in below expectations—a sour note before he retires, as previously announced, in May.
Otellini was tapped as CEO in 2005 and has survived years of great tumult. He battled antitrust regulators in Europe and the U.S. (both federal and from New York State) over issues pertaining to rival AMD. He managed to fix Intel's server chip business after it had fallen behind AMD's—a move that has left AMD near collapse and Intel making huge profits in the data center. And he turned Intel into a true software powerhouse through a series of acquisitions and high-profile hires. (He also bought McAfee for $7.6 billion, a deal that someone, someday may be able to explain.)
What Otellini did not do was deliver a credible product in the mobile device market in anything resembling a timely fashion. The singular failure has undermined most of the company's successes during his tenure as CEO. This is why his dramatic wins feel so neutered.
Intel is due to name Otellini's successor any day now. The next CEO will at least have a fighting chance to play off some of the company's investments and come out looking clever and exceptional. The low-power chips now arriving from Intel appear competitive with the ARM-based designs from Qualcomm, Nvidia and others, meaning that Intel is finally in the running for smartphone and tablet wins. Intel has also started flirting with the idea of becoming a contract chip maker able to compete with TSMC, Samsung, and Global Foundries.
It puzzles me that Otellini decided to step down before seeing these bets through to their conclusions. His legacy, as it stands, will end up closer to ho-hum than spectacular.