In Convenience Stores: More Food, Fewer Cigarettes
by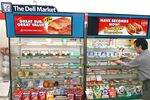 Sandwiches are the new cigarettes, at least as far as 7-Eleven is concerned. Traditionally a reliable source of profit for convenience stores, cigarette sales are waning—and food, from fresh fruit to mini-meals, is rising to take its place.
"Over the course of the next 10 to 20 years, we fully expect for cigarette sales to continue to decline," spokesman Scott Drake writes in an e-mail. "We are planning for cigarettes to not be a part of our long-term business model." Cigarettes still make up about 38 percent of non-gasoline sales for convenience stores. Yet, even with the generous rebates offered by tobacco companies, gross margins have dropped from 20.8 percent in 2002 to 14.6 percent in 2011, as consumers turned to lower-cost brands and started buying on low- and no-tax reservations, putting a squeeze on prices, according to the National Association of Convenience Stores.
At the same time, strict laws on how tobacco products are displayed and sold have made them less appealing to retailers. Cities such as Boston and San Francisco even banned cigarette sales in pharmacies, leading to lawsuits from Walgreen and Safeway.
Food, on the other hand, is far more profitable, with gross margins of more than 55 percent. Prepared food and fountain sales now account for 30 percent of profit for Casey's General Stores, more than double the 13 percent generated by cigarettes, according to the company's annual report. In 2012, the Midwestern chain began a remodeling program for its 1,700 stores to accommodate expanded coffee bars and seating, and added made-to-order sandwiches. Casey's started pizza delivery service in 2012 and sold tens of millions of pizzas last year.
At the Pantry, which operates 1,572 stores (including Kangaroo Express) in the Southeast, food service through its own brand and such restaurants as Subway and Krystal now represents 10.4 percent of revenue, compared with 4.4 percent in 2008. 7-Eleven plans to double sales of fresh food, including refrigerated, warmed, and freshly made comestibles, to 20 percent of sales in the U.S. and Canada by 2015.
"Food is the future," says Jeff Lenard, a spokesman for the NACS.
Why food and not booze? Alcohol as a share of convenience store revenue has seen steady during the past five years, says IBISWorld analyst Doug Kelly. "They are focusing on convenience and looking at overall health trends taking place."
The challenge, says Lenard, will be greater for single-store operations, which are more than half of all convenience stores. They will need to find suppliers of fresh, nonpackaged foods who are willing to do business with a little guy. "Even sticking out some bananas, you run into a problem with the distribution system," he says. "You might have to get them at the grocery store and sell them, which makes it hard to be competitive."
Alas, the new food-stuffed stores might make it tough for former smokers to avoid those post-quitting pounds—unless, of course, they opt for those pricey bananas.
Before it's here, it's on the Bloomberg Terminal.
LEARN MORE