pursuits
How to Watch Lance Armstrong Confess on 'Oprah'
By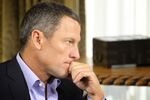 For those watching Le Confession tonight, here are a number of ways to keep score at home:
—For starters, Juliet Macur of the New York Times suggested this terrific set of questions for Oprah if she really wants to "go deep" on Lance Armstrong.
—Jason Gay, of the Wall Street Journal, reminded us why the Armstrong affair still matters: This isn't just about voided Tour de France victories, but his having ruthlessly destroyed the credibility of all those who told the truth prior to tonight.
—and Outside magazine has added some matchless pre-game, including doctored Lance covers of that magazine. (If it feels as if some editors and writers are unforgiving, that's because we're wearing lacerating, yellow hair shirts.)
—that said, this chart of Armstrong's cycling universe is our favorite so far, from Velorooms.

We cannot vouch for its complete accuracy, but the graphic is consistent with the research Bloomberg Businessweek did for our own Lance Inc. chart following Armstrong's announcement in October that he would forgo arbitration with the U.S. Anti-Doping Association. After that, the organization made public overwhelming testimony from Armstrong's teammates that the champion cyclist had used banned substances and encouraged others to do so as well.
The number of big names in finance who put money into professional cycling in the Lance Era—none more so than Thomas Weisel—is remarkable. Even more impressive is that these stakeholders, through Weisel and USA Cycling, essentially owned the body that was charged with keeping the sport clean. Even at a glance, it is impossible to look at the Velorooms chart and not appreciate that while USADA claims there was an "army of enablers" that helped Armstrong perpetrate his fraud, an even larger army undeniably benefited from his consistent assertions of innocence.
Before it's here, it's on the Bloomberg Terminal.
LEARN MORE