Can Redbox Stand Out in Streaming?
Redbox Instant offers DVDs and streaming movies
By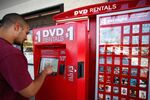 Consumers have plenty of ways to watch movies over the Internet. There's Netflix, Amazon.com Instant Video, Wal-Mart Stores' Vudu, and Apple's iTunes. Now the market for buying and renting films online is about to get more crowded. A new service, Redbox Instant by Verizon, plans to throw open its virtual doors to customers willing to pay $8 a month. Subscribers will gain online access to a catalog of older films at no extra fee, an on-demand store of newer movies available for rent or purchase, and DVD rental credits good for four recent releases each month from Redbox's kiosks at supermarkets and drugstores around the country.