Bloomberg View: The Value of Studying Gun Violence
Obama's gun control proposals strike a blow against ignorance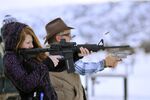 The White House's newly announced gun control agenda, and the presidential commitment behind it, is a genuine milestone on America's long, twisted road toward sensible gun laws. This time, the cynics are wrong.
Will the White House achieve everything it wants? Surely not. But while acknowledging the "complicated challenge" he has embraced, President Obama also recognizes that the Newtown massacre has created space for a meaningful discussion on gun laws.
While most of the focus will be on Obama's proposals for bans on assault weapons and high-capacity magazines, along with universal background checks, we believe the president's willingness to take a series of executive actions is also vital. Not all 23 items on this list may prove productive. But some will. Especially promising are initiatives to promote gun safety technology, to improve gun tracing and data collection for the federal background check system, and to promote gun violence research under the auspices of the Centers for Disease Control & Prevention.
It's impossible to overstate the importance of efficient records maintenance and scholarly research on gun violence. The gun lobby has successfully constrained the collection of such information to inhibit public debate. The lobby has reason to be wary of research, much of which suggests that guns are far more dangerous to law-abiding owners than many realize. As Obama said in his remarks, "We don't benefit from ignorance."
Likewise, the current haphazard approach to records—from the background checks that are never done to mental health records that go missing—ensures maximum chaos while placing minimal limits on gun purchases. It is an excellent system to promote gun sales, a very poor one if the aim is to protect life.
BOTTOM LINE -
To read Simon Johnson on Bernanke's possible successor and Jonathan Alter on Obama's second term, go to: Bloomberg.com/view.
Before it's here, it's on the Bloomberg Terminal.
LEARN MORE