Beyond Webvan: MyWebGrocer Turns Supermarkets Virtual
Adam Bluestein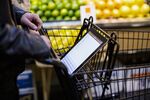 When the Tarrant brothers—Rich, Brian, and Jerry—founded MyWebGrocer in 1999, they didn't follow the path of Webvan and others betting on the online grocery gold rush. "Webvan was a poster child for a bad Internet business model," says MyWebGrocer's chief executive officer, Rich Tarrant. "In a low-margin business, where the products can be purchased within three miles by anyone in the United States, they decided to build warehouses and a whole distribution system with delivery trucks, labor, and everything else. But the 36,000 conveniently located grocery stores on every Main Street in America already had all that."
In one of the biggest flops of the dot-com era, Webvan went bust less than two years after its $375 million initial public offering in 1999. By focusing on building software rather than physical infrastructure for the $550 billion U.S. grocery industry, MyWebGrocer, based near Burlington, Vt., became the industry's leading provider of digital services. (What did a famous Vermonter write about taking the road less traveled?)
MyWebGrocer initially concentrated on selling to supermarkets software that allows shoppers to order online for pickup at their local stores. Participating stores report an average online order of $168, vs. about $30 for an average in-store purchase, the company says. It has since broadened its offerings to about a dozen software tools and services that include mobile apps and the distribution of digital coupons and circulars. "I knew if we could resolve the complexities of managing 80,000 SKUs [stock-keeping units] … we could then tack on every other digital service that feeds into a transaction," says Tarrant.
The brothers say demand for their services is surging as established grocery chains look to e-commerce and mobile to help fend off the dual threat posed by Wal-Mart's grocery division and Amazon.com, which has been testing a grocery delivery service called Amazon Fresh. MyWebGrocer's customers include more than 130 national chains, such as Kroger, Albertsons, and Winn-Dixie, and 2012 revenue rose about 55 percent, to $35 million, from a year earlier. "In the last two years there's been a big shift in the speed of conversations with decision-makers in the grocery industry," says Tim Kenney, MyWebGrocer's chief operating officer. "Wal-Mart and Amazon motivate them to move faster."
Backed by $13 million in venture capital, MyWebGrocer operates as a white-label provider, meaning everything it builds is store-branded—shoppers never see its name. About 180 employees, including about 70 hired last year, work at the company's headquarters in a renovated wool mill overlooking the rapids of the Winooski River near the University of Vermont; MyWebGrocer also has 60 contract programmers in Romania. Last year it began working with Foodstuffs, New Zealand's biggest grocery retailer, and opened a London office to pursue business in the U.K., where three-quarters of consumers use the Internet for household grocery shopping, according to Nielsen.
As in other retail sectors, grocers are increasingly focused on mobile strategy, and MyWebGrocer's engineering team has made it a priority to develop tools that leverage smartphone capabilities. By analyzing data on consumer purchase patterns, information about store inventory and layout, and real-time tracking of a customer's location and actions, the company's mobile shopping app lets retailers deliver targeted offers on the fly. "We know two or three things you're likely to buy, even if you don't know it yet," says Kenney. "When you check diapers off your list, we know what aisle of the store you're in, and we might hit you with a discount offer on baby food."
That ability to push the right offer at the right place and time has proved appealing to consumer packaged-goods companies, too. About half of MyWebGrocer's business is with brands including Kellogg, Procter & Gamble, and S.C. Johnson, which buy advertising on its tools. "Just like they buy shelf tags, wall hangers, and all that in the store," says Rich Tarrant. "We're the virtual rendition of that."
The prospects for digital growth in the grocery business are good, says Darren Seifer, a food and beverage analyst with research firm NPD Group. That promise has attracted more players, especially in mobile. Last spring, Catalina, which powers loyalty programs for more than 85 U.S. grocery chains, acquired mobile commerce company Modiv Mobile, which is behind mobile apps in Ahold USA's Stop & Shop stores. The merged company, Catalina Mobile, will focus on mobile coupon delivery. Coupons.com, a 14-year-old digital-coupon provider that integrates with MyWebGrocer's tools, recently beefed up its shopping app Grocery iQ, which allows customers to build shopping lists and find relevant deals via their smartphones.
While grocery apps aren't nearly as widely used as social media apps and other utilities, 25 million Americans a month use a coupon app, according to a 2012 survey by NPD. "That's nothing to sneeze at," says Seifer. As more of the country gets smartphones, "food marketers have an opportunity to connect like never before."
Before it's here, it's on the Bloomberg Terminal.
LEARN MORE